Cubs 83-76, +2 (still)
Marlins 69-90, -18
POTG: RP Kerry Wood (2 IP, H, BB, K, 3 Marooned)
Runner Up: LF Soriano (2 H, 2B, RBI, BB), 3B A Ram (4 H, 2B, R, RBI)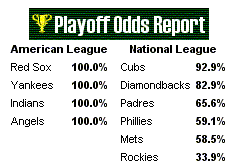 As of the start of day, September 28, the team in the NL with the most secure shot of making the playoffs are the Chicago Cubs (the team that just got swept by the Marlins.) Backing into the playoffs may not be glamorous or exicting, but the Brewers are going to let it happen. With the Padres needing to win games and Milwaukee unable to, the Cubs might not have to win another game the rest of the way – but I think we'd all like that to change, just for sanity's ake.
Even I have to admit the Trachsel trade is a total failure. It's hard to say it's the worst recent Cubs trade when this series featured D-Train and Reynol Pinto shutting the Cubs down and I had hopes of vengeance when Trachsel sat down nine in a row. Trachsel wasn't good enough, and they would've done as good sticking with Marshall or going to Gallagher or Hart. I think it was still a worthwhile gamble but the results were not there.
Scott Eyre's been good of late so it was sad to see him struggle. Anyone who's been watching this team knew Dempster was giving up run(s) when he came in a non-save situation so that was no surprise. At least we can take Wood's really good performance from this game as far as the pitches are concerned. If he allowed any runs in at that point, the game is mostly over. It's just too bad the Cubs couldn't do anything with 9 more outs.
Ram had a nice day, and I've noticed he seems to be the designated Cub to pick up 6th-10th place votes on MVP ballots this year, but the Cubs need more than doubles to win. This game was the only one where it felt like the Cubs might yet rally back for a huge win, but they just ran out of gas after the sixth inning. (Pinto walking his way thru trouble to get to Jacque paid off big – not sure if it just happened to work that way or they meant to walk Floyd and Monroe for a high risk/high reward shot.)
After this game, I decided to unplug from the rest of the world – did some reading, messed with my new iTouch (which, in fact, is awesome – but I need a case and the rest of the world needs to hack it for me), and pretty much ignored all responsibilities to get away from the MLB scoreboard for a night. It worked out fine – I didn't have to follow the Brewers pitch by pitch for them to lose another, and there's plenty of chaos still to unfold on the last few days. It was a good day to take off from the race from a mental health standpoint.
I'd bet on Z tonight. (Actually, I AM betting on Z tonight in my fantasy league.) With Capuano starting for the Brewers, the Cubs have a fine shot of ending the drama tonight.