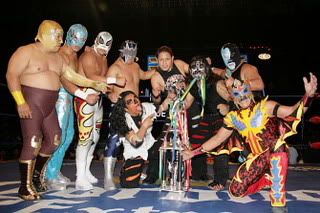 cmll/gangs all here
Haven't seen a news report on TripleMania, but there are still skattered bits from fan reports. I'd lead this off with an TripleMania picture, but there's apparently 2 in all the land, and you've seen them.
– Black Terry Jr. says there was a video for Ricky Marvin coming in September, but it's not clear if this is just him working with the group while in Japan or what. Lita's band performed after the main event due to time issues. He thinks the Chessman fall sell was more angle than actual death. I seriously looked at the cage photo a dozen times before I figured out that was Chessman taking the bump.
Chessman's too valuable to the company to be attempting suicide on every major show, they've got to put a stop to it – Crazy Boy could do it.
– Skap_fett corrects a couple of finishes (opener, Guapos), lists Super Calo's real name as Rafael Garcia, runs down the large injury list: Scoria (who wasn't technically in a match!), Joe Lider, Laredo Kid, Zorro, Chessman, La Parka Jr. – those last two were hurting bad.
– Dhani says Black Pearl was with the rudos in the Atomicos match, making it 5 v 4.
AAA TV (SUN) 07/15 Toreo de Cuatro Caminos
1) Alfa, Casandro, Fabi Apache, Mini Abismo Negro b Cinthia Moreno, Octagoncito, Oriental, Pimpinela Escarlata
2) Cuervo & Ozz DRAW Crazy Boy & Joe Lider [AAA TAG]
3) Gran Apache & Super Fly b Laredo Kid & Super Calo [losers advance, pi]
4) Super Fly b Super Calo [mask]
5) Fuerza Guerrera b Juventud Guerrera [street]
6) Alberije, El Elegido, Super Porky b Alan Stone, Scorpio Jr., Zumbido
7) Head Hunter I, Rikishi, Ron Killings, Sabu b La Parka Jr., Latin Lover, the Animal, Zorro
8) Mesias L Kenzo Suzuki, Cibernetico, Chessman, Charly Manson, X-Pac [cage, hair]
I'm going to wait till Triple A or Super Lucha gives me official results before I do the results post, to save me from edits later. I'm still not sure about the tag title match. It'll all end up in one place in the end.
An article that got picked up all over the place talks about AAA's planned expansion in to the US. Not much new; I didn't know Televisa didn't want to produce the TV show in 2003. They list Chicago, Miami, Houston, Los Angeles and New York as cities where AAA will be going, but I'm not sure if they mean live events or if PPVs will just be available.
CMLL (SUN) 07/22 Arena Coliseo [cmll]
1) Astro Boy & Trueno vs Jeque & Messala
2) Lady Apache, Marcela, Sahori vs Amapola, Hiroka, Seductora
3) Fabian el Gitano, Leono, Tony Rivera vs Nosferatu, Satanico, Virus
4) Felino, Heavy Metal, La Mascara vs Emilio Charles Jr., Hirooki Goto, Okumura
5) Alex Koslov, Dos Caras Jr., Dr. Wagner Jr. vs Terrible, Villano III, Villano V
6) Rey Bucanero vs Atlantis [CMLL LH]
I know y'all said you don't like this card, but I'm thrilled for that main event. Hopefully they'll get more than 5 minutes this time. And the opener should be fine. It's tougher defending the stuff in the middle, though building to Amapola/Marcela in a singles match should be fun.
Wagner's been booked as a tecnico everywhere outside of Arena Mexico. He's turned on Mistico when he's teamed with him, but no one else. I think we'll know if he's a long term rudo by that finish (so there's something redeemable about the match – or maybe it's just build for Dos Caras Jr. versus Terrible for the Heavyweight Championship Of The World! I'm intrigued by the thought of that match too.
indy (SUN) 07/15 Arena Coliseo Monterrey [RFC]
1) Virtual X b Mercurio
2) Barba Roja & Hijo de Pirata Morgan b Aguila Extreme & Euforia (Monterrey)
3) Nygma, Picudo, Silver Cat b Chiva Rayada I, Iron, Ramses (Monterrey)
4) Aero Star, Nemesis AAA, Rey Cometa, Virtual X b ?, Alan, Polvo de Estrellas, Rey Infenral
5) Gran Hamada, Pirata Morgan, Pirata Morgan Jr. b Antifaz, Hator, Monje Negro Jr.
indy (TUE) 07/17 Arena Coliseo Monterrey [RFC]
1) Rey Cazador vs Corazon Adicto
2) Konan Gay vs Borrico
3) Ejecutor vs Sika
4) Dr. Tormenta & Mr. Secuestro vs Chacos & Golden Boy
5) Pancho Tequila & Super Konan vs Konnan King & the Beast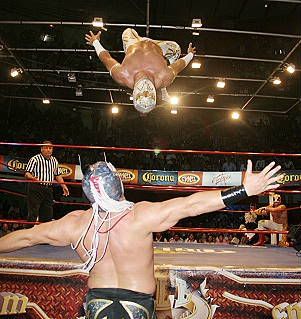 cmll
CMLL (THU) 07/12 Arena Neza [Heri 99]
1) Cyber Black & Dr. Karonte Jr. b Super Camaleon & Super Tri
2) Súper Comando & Zayco b Rayo Tapatío I & Rayo Tapatío II
3) Astro Boy & Super Nova b Apocalipsis & Ramstein
4) Fabián el Gitano, Leono, Maximo b Dr. X, Loco Max, Nitro
5) Dos Caras Jr., La Máscara, Rey Bucanero b Atlantis, Eclipse, Olimpico
CMLL (THU) 07/19 Arena Neza [Heri 99]
1) Angus & Nakashima vs Federale I & Federale II
2) Fantasy & Pequeno Olimpico vs Pequeno Violencia & Pierrothito
3) Astro Boy & Sombra de Plata vs Caligula & Mesala
4) Fobia, Metalico, Tigre Blanco vs Arkangel, Hooligan, Loco Max
5) Dos Caras Jr., Maximo, Negro Casas vs Damian 666, Halloween, Terrible
IWRG (THU) 07/12 Arena Naucalpan [IWRG]
1) Tortuguillo Ninja b Akuma
2) Macho II & Puma King b Celestial & Misterio Verde
3) Asesino Negro, Black Terry, Dr. Mortus b Ave Fenix, Kid Tiger, Star Boy
4) Kai, Ultraman Jr., Yamato DQ Cerebro Negro, Fantasma de la Ópera, Tony Rivera
5) el Hijo Del Anibal, Máscara Sagrada, Negro Casas, Negro Navarro b Cien Caras Jr., Enfermero Jr., Hijo de Cien Caras, Mascara Ano 2000 Jr.
Black Terry attacked Fantasma de la Opera, wanting a shot at the Welterweight title. Mascara Sagrada & Negro Navarro want a shot at Mascara Ano 2000 Jr. & Hijo de Cien Caras's tag titles. Mascara Sagrada & Negro Navarro want a shot, got that? Okay, look at this:
IWRG (THU) 07/19 Arena Naucalpan [IWRG]
1) Misterio Verde & Tortugillo Ninja vs Macho II & Rockero del Diablo
2) Kai, Sasaki, Yamato vs 911, AK47, Fierro [EdM TRIOS]
3) Fantasma de la Opera vs Black Terry [IWRG IC WELTER]
4) Cerebro Negro, Dr. Cerebro, Suicida vs Cyborg, Guardia, Xibalba [IWRG IC TRIOS]
5) Hijo de Cien Caras & Mascara Ano 2000 Jr. vs Hijo de Pierroth & Pierroth [IWRG IC TAG]
Pierroth != Negro Navarro. That's a lot of title matches. Mexico State trios are vacant going into that match. Los Cerebros/Suicida are the Trios champs. Fantasma de la Opera turned tecnico and the Japanese turned rudo since the last time we really got weekly info on this group.
In Guadalajara, Dr. Wagner Jr. did retain the UWA World Heavyweight Championship.
CMLL AZTECA (WED) 07/25 Arena Xalapa Lineup [El Sol de Xalapa]
1) Jaguar, Linterna Verde vs Guerrero del Infierno, Soldado Anonimo
2) Samuray, Gabriel o Gabriela vs Perro Mocho Jr., Rey Garfio Jr.
3) Dark Angel, Luna Magica vs Hiroka, Mima Shimoda
4) La Sombra, Valiente, Stuka Jr. vs Nitro, Dr. X, Skandalo
5) Mistico, Ultimo Guerrero vs Averno, Dr. Wagner Jr. [pi]
That's going to suck for Mistico. Article is actually more about the people who run the arena talking about how things have improved much lately (since a negative article about the arena.)
In Notimex, Wagner and UG crow about winning the tag team titles. Mask vs Mask challenge, check. Full show recap from Notimex is here.
El Sol de Tijuana writes about the intimate atmosphere of the VIP Tijuana show.
Daily eSdSLP AAA show article.