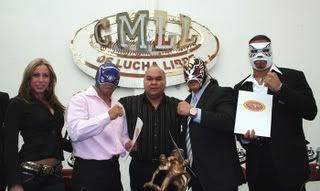 CMLL.com says
09/28: Blue Panther vs Lizmark Jr. vs Ultimo Guerrero [mask]
So no one had this one.
This as good as any option they've come up with, and maybe Ultimo will get a mask win he needs.
The press conference was TODAY, and I can't read. Chaos broke out after the main event was announced, with various challenges being thrown out to be added to the card.
– Perro wanted Lizmark Jr.'s mask
– Mistico wants Perro's hair.
– Wagner wants Mistoco's mask
– Villanos want Ultimo and Atlantis
Ultimo pointed out Atlantis is not in the hemisphere at the moment and isn't due back for the anniversary show, which would seem to be an issue. Anyway, CMLL says they're think about it, and if anyone's really willing to sign their names to pieces of paper, they will find some time in September to run their match too.