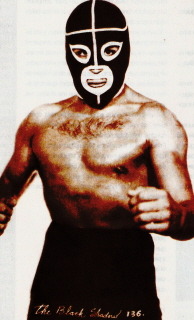 luchawiki
Alejandro Cruz Ortiz, who was a star in in the early days of lucha libre, teaming with Blue Demon Jr. and having a legendary mask vs mask battle with Santo, died Thursday of pneumonia. He was 81.
Source: Ovaciones.
Box Y Lucha has a thread of condolences and rememberances. There's also a threads on El Martiente.
(Miarroba, the hosting service of Satanico's Mansion and El Halcon's board and other places are moving their servers today, so they're down for the moment.)
Six things to know about Black Shadow
– His mask match with Santo (November 7th, 1952) is probably the most important match in lucha libre. It wasn't the first mask/mask match, but it made them them a huge deal, and so much of lucha libre in the fifty years since have been built around battles for masks.
– Black Shadow was probably in top 5, maybe top 3, most important Mexican wrestlers of his day, and maybe top 15 overall.
– It'd be higher if, like Demon and Santo, he had a son who followed him and had success. Shadow did have sons, none of which followed their father's career. Shadow gave permission to one man to carry his name, and other indy wrestlers have used it without permission. None have made a big mark.
– Blue Demon and Black Shadow were long time partners and claimed to be brothers.
– Black Shadow was an early highflyer. He help popularize versions of the tope.
– Despite his fame, Shadow worked other jobs to make ends meet. When he was injured during his career, he worked as a shoemaker. After it was over, he sold purses at the market.
One thing I wish I knew: why did Black Shadow lose his mask, and not Blue Demon? Was Shadow considered the lesser member of the pair, or was it just happenstance?