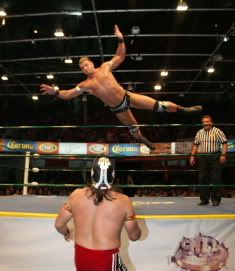 CMLL
CMLL (SUN) 03/02 Arena Coliseo Guadalajara [CMLL, MT]
1) Golden & Thunder Boy b Milenio & Valentin Mayo
2) Guero Loco & Impostor b Idolo & Virgo
3) Exterminador (Guadalajara), Infierno, Super Maquina b Casanova, Magnum, Metal Blanco
4) Gallo, Leon Blanco, Metalik b Malefico, Máscara Mágica, Toxico
5) Grey Shadow & Místico DQ Averno & Mephisto
CMLL says Averno lost to La Mistica, MT says Mephisto yanked Mistico's mask just before the submission. About the same.
Sunday's Arena Coliseo card has been changed from having a women's trios to only having Dark Angel vs Amapola for the title. Considering the other four were Blanca, Sahori, La Nazi and Medussa, that's a win. I'm thinking they might still save the title change for Arena Mexico, but I don't feel strongly about it.
Tonight's the big Rey Bucanero vs Mr. Aguila battle for the CMLL Light Heavyweight Championshp. In Reforma, Rey blames incompetent refereeing for last week's loss, but that's all in the past. Tonight's match, Rey says, looks to be a technical fight. (So we've got a finish involving a foul.)
Ovaciones has a short bio of Mentallo, making his Arena Mexico debut today. Canadians may be taking over CMLL.
WAT (FRI) 02/29 Coliseo El Campin, Bogota, Colombia [colombiandragon Colombiandragon @ el Martinete]
1) Comando DRAW Monje Rebelde
2) Stallone b Catedratico
3) Tony Guerrero DQ Spartako
4) Dick Misterio & Nightman b Enterrador 1 & Maluk
5) Sagitario vs Gemelo Halcon I, Gemelo Halcon II, Fishman, Hercules Negro [WAT Panam]
STALLONE.
Wrestlingdom.com says the Reyes de Reyes atomico is now a tag match. We'll see.
Wrestlers (and boxers, and MMAs) have until Thursday to renew their license.
El Siglo de Torreon previews Saturday's Wagner Promotions show. Meanwhile, the commissioner of sports in Torreon says again there will be no boxing or wrestling in (his) Auditorio Municipal Torreon. Basketball, volleyball and martiar arts only.
On the cover of the newest AAA's Dos de Tres: Rey Misterio Jr.. I didn't know they could do that.
indy (SUN) 03/16 Arena Coliseo Monterrey [RFC]
1) Konnan Big vs Recta
Recta, you may be surprised to hear, is a guy from TV. So unlike Konnan Big. It's a guy from Televisa Monterrey in case you're trying to remember which network they're with that moment.
AAA (MON) 03/31 Domo de la Feria de Leon [am.com.mx]
1) Mini Dizzy & Octagoncito vs Mascarita de la Muerte & Mini Histeria
2) Billy Boy & Estrellita vs Gran Apache & Lady Apache
3) Alan Stone, Chris Stone, Super Calo vs Killer Clown, Psycho Clown, Zombie Clown
4) Espíritu, Mesias, Zorro vs Charly Manson, Chessman, Cibernetico
The show here scheduled for last night was "postponed to later this month, due to logistics". Huh. Anyway, they get a better card the second try.