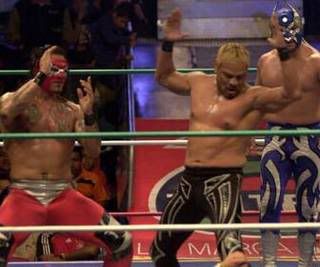 ESTO
CMLL (FRI) 09/14 Arena Mexico [ovaciones, ESTO]
1) Polvora & Vaquero b Angel Azteca Jr. & Tiger Kid
2) Euforia, Loco Max, Nosferatu b Leono, Stuka Jr., Super Nova
3) Mascara Purpura, Sagrado, Sombra DQ Damian 666, Mr. Aguila, Texano Jr.
4) Averno, Black Warrior, Hijo de Lizmark b Heavy Metal, La Mascara, Volador Jr.
5) Hijo del Perro Aguayo, Terrible, Villano V b Blue Panther, Dos Caras Jr., Negro Casas
In the third fall of the main event, Blue Panther got Terrible with an armbar, but Perro and Villano rallied to beat Dos and Negro for the win.
Ovaciones says Black Warrior has new look with no skirt. Maybe he just forgot it, because that's all that looks different. No recap mentions that he's added to the Anniversary main event, but next week's lineup seems like we're still headed that way.
Texano fouled Purpura in the tercera. CMLL.com notes that Texano is pretty much a Perro at this point, only needing Perro Jr. to make it official. That'd be 1 of the 2 new members promised.
CMLL (THU) 09/13 Arena Neza [Heri 99 @ box y lucha]
1) Romano & Super Tri b Dr. Karonte Jr. & Monkey
2) Molotov & Tiger Kid b Vaquero & Zayco
3) Bam Bam, Electrico, Pequeno Olimpico b Pequeno Damian 666, Pequeno Halloween, Pequeno Mr. Aguila
4) Leono, Meteorix, Valiente b Colmillo Blanco, Ephesto, Ramstein
5) Mistico, Negro Casas, Sombra b Averno, Dr. Wagner Jr., Sangre Azteca
CMLL (TUE) 09/18 Arena Coliseo
1) Rayo Tapatio I & Rayo Tapatio II vs Artillero & Zayco
2) Metalico, Sombra de Plata, Tiger Kid vs Apocalipsis, Ramstein, Super Comando
3) Euforia, Mr. Mexico, Nosferatu vs Leono, Starman, Valiente
4) Maximo, Ogun, Sagrado vs Averno, Ephesto, Mephisto
5) Alex Koslov, Dos Caras Jr., Marco Corelone vs Damian 666, Mr. Aguila, Terrible
CMLL (FRI) 09/21 Arena Mexico
1) Angel Azteca Jr. & Neutron vs Hooligan & Loco Max
2) Dark Angel, Luna Magica, Marcela vs Hiroka, Medusa, Rosa Negra
3) Heavy Metal, Maximo, Shocker vs Averno, Ephesto, Mephisto
4) Sagrado, Sombra, Volador Jr. vs Damian 666, Mr. Aguila, Texano Jr.
5) Blue Panther & Mistico vs Hijo del Perro Aguayo & Villano V and Atlantis & Ultimo Guerrero and Black Warrior & Lizmark Jr.
I can't think of the last time we've had a main event four team mini-tournament, but here it is. Warrior's basically taking Wagner's place (though a tecnico wouldn't work exactly there.) Nice to see Shocker exists once more. Gotta figure the Perros are getting the win in the semimain to set up that title match in two weeks or so.
If this was the title match week for that feud, and you swapped in the cage match for the 4 way tag, it may be a more interesting show than the Anniversary.
CMLL CAN52 Guerreros del Ring #95 has
09/07 Mexico: Euforia, Nosferatu, Virus b Mictlan, Super Nova, Valiente
09/09 Coliseo: Blue Panther, Dr. Wagner Jr., Rey Bucanero DQ Atlantis, Olimpico, Ultimo Guerrero
more interviews about Dr. Wagner Sr. – Lizmark and whomever else is left.