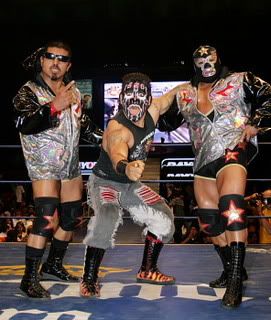 CMLL
As expected, Santo won the honoracy CMB (WBC) lucha libre title, beating Kamui with a camel clutch in a one fall match. Santo bled during the match, and handed over his bloody mask to the CMB president at the end of the show. Erik Morales didn't make the convention, due to the birth of his second child.
CMLL (THU) 11/22 Palenque Expomex, Nuevo Laredo [RFC]
1) Dark Angel & Diana La Cazadora vs Amapola & Poly Star
2) Rey Bucanero, Shocker, Volador Jr. vs Mephisto, Olímpico, Último Guerrero
3) Místico vs Averno [NWA MIDDLE]
On yesterday's Figure Four Daily, Mike Quackenbush mentioned the NWA had (at some point – recently?) tried to contact CMLL to get back some sort of control of the NWA titles. CMLL did not return calls, as expected.
Guess who's back in ACM?
AAA (SUN) 11/18 Arena Coliseo Monterrey [RFC]
1) Scravos & Shenky vs Dranser & Euforia (Monterrey)
2) Dr. Cianuro, Guerrero Blanco, Virtual vs Baby Fox, Criminal, Iron
3) Mini Chessman & Sexy Star vs Mari Apache & Mini Abismo Negro
4) Rey Cometa & Super Fly vs Guerrero Negro & Sangre Chicana
5) Crazy Boy & Joe Lider vs Espíritu & Ozz
CMLL PYCV (SUN) 12/09 Poliforum Zamna de Merida [Yucacool @ el Martiente ]
1) Amenaza Roja, Gato Nocturno, Guerrero Galactico vs Chupacabras, Rebelde Punk, Tigre Pardo
2) Espartano I, Proverbio, Sombra Azul Jr. vs Halcon Rojo, Halcon Rojo Jr., Lobo Salvaje
3) Coco Colores, Coco Rojo, Coco Verde vs Bello Adrian, Johny Reyna, La Chona
4) Fabián el Gitano & Flash vs Euforia & Nosferatu
5) Místico & Rey Bucanero vs Blue Demon Jr. & Dr. Wagner Jr.
Ovaciones hypes Stones vs Guapos.
NotiAAA posted some black and white shots from before the Irapuato show.