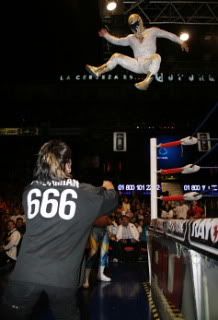 Mascarita Dorada & Mini Damian/CMLL
It's looking like I'll be on Figure Four Daily this upcoming Tuesday to talk about lucha over lunch. I believe it's a pay show, but anyone can send in questions to Bryan and we'll try to answer them. Also, pray to your favorite deity that I don't have phone problems this time.
CMLL (TUE) 04/29 Arena Coliseo Guadalajara [cmll]
1) Milenio b Quazar
2) Nube Roja b Fraile de la Muerte
3) Jeque DQ Idolo
4) Mr. Trueno & Rey Trueno b Mangum & Oro II
5) El Lider b Asesino Negro [hair]
6) Gallo b Toxico [OCCIDENTE LH]
7) Dos Caras Jr. & Dr. Wagner Jr. b Rey Bucanero & Toscano
Gallo retains his title. Asesino Negro loses his hair again. Jeque dodged a forearm, and Idolo got the ref instead for the DQ.
CMLL (WED) 04/30 Arena Mexico [ovaciones, cmll, MT/wire story]
1) Ángel Azteca Jr., Astro Boy, Sombra de Plata b Artillero, Pólvora, Súper Comando
2) Bam Bam b Pequeño Damian 666, Shockercito, Pierrothito, Mascarita Dorada, Celestial, Pequeño Halloween, Mr. Aguilita, Pequeno Warrior, Mini Olimpico [cibernetico]
3) La Sombra, Sagrado, Volador Jr. b Hijo de Fantasma, La Máscara, Valiente [MEX TRIOS]
4) Marco Corelone, Místico, Shocker b Averno, el Hijo del Perro Aguayo, Mephisto
The story was the title match. Challengers took the first fall, champions rallied back to take the second. In the third, Mascara eliminated Volador with the campana, and Sagrado was able to finish Fantasma with a spinning backbreaker. Valiente knocked Sagrado out of the ring and took him out with one of his trademark dives. That left Mascara and Sombra in the ring. La Mascara got his campana on Sombra. This time, Sombra was able to escape into a roll up for the win. Money was thrown in after the match.
The Champs said they were ready for any one else to challenge them. Hijo de Fantasma and his crew are ready to challenge again. ESTO has this as defense #7.
Bam Bam pinned Damian in the final of the cibernetico. Title rematch coming up?
All the wrestlers in the top couple matches came out with kids dressed up as them. There were also kid valets and kid ring announcers. Attendance was over 16,000. MedioTiempo has more comments about the show, including Mistico being booed by Perros fans even on Kid's Day.
CMLL (THU) 05/01 Monumental Plaza de Toros, Chilpancingo [davidloaeza @ box y lucha]
1) Alibastik Jr. & Astro Nave b Payaso Loco & Rey Jaguar
2) Kaoria & Luna Mágica b Medussa & Rosa Negra
3) Piloin, Shockercito, Último Dragoncito b Mr. Aguilita, Pequeño Damian 666, Pequeño Halloween
4) Astro Boy, La Sombra, Valiente b Misterioso II, Pierroth, Texano Jr.
5) Averno & el Hijo del Perro Aguayo b Héctor Garza & Místico
Averno fouled Hector and Perro yanked Mistico's mask. The guy who went to this and the AAA sho the previous day thinks the CMLL show was better and had more attendance.
CMLL (FRI) 05/02 Arena Mexico
1) Astro Boy & Kid Tiger vs Apocalipsis & Ramstein
2) Dark Angel, Goddess, Luna Mágica vs Hiroka, Medussa, Princesa Sujei
3) Felino, Hijo del Fantasma, La Sombra vs Ephesto, Misterioso II, Virus
4) Alex Koslov, Heavy Metal, Negro Casas vs Black Warrior, Rey Bucanero, Toscano
5) Blue Panther, LA Park, Shocker vs el Hijo del Perro Aguayo, Terrible, Villano V
ESTO does the usual preview.
Meanwhile, AAA has it's THIRD TV taping this week. They must have a plan to be away from camera for some time in May, because they're setting up a big backlog again. The big singles match is Zorro vs Mesias, and I think Vampiro will physically be involved in that one. Abismo Negro is supposed to participate in a trio, but I now wonder if maybe we're getting another Black Abyss appearance.
Clowns will probably be up to 127. With the Hell Brothers teaming together in the main event, I wonder if they're just about to do that match.
ESTO has an article on plans for the Lucha Libre Expo and a Volador bio is partly plug for the shows.
Lots of articles mentioning lucha libre events in passing from Kid's Day, like this one that was actually a boxing/wrestling show.
Is AAA changing Monterrey arena affiliations again? Perhaps.
CMLL (MON) 05/05 Arena Puebla
1) Asturiano, Forajido, King Jaguar vs Aguila Guerrera, Espiritu Maligno, Mr. Rafaga
2) Fuerza Chicana, Furia Chicana, Policeman vs Cerebro Negro, Flecha, Kraken
3) Amapola vs Marcela [CMLL WOMEN]
4) La Máscara, Sagrado, Valiente vs Olímpico, Sangre Azteca, Toscano
5) La Sombra, Místico, Shocker vs Averno, Ephesto, Mephisto
Of course Puebla should have a good Cinco de Mayo show.