This should automatically appear on the site around 6 PM. If I'm around and there are results, I'll be editing this live with whatever. If you want to discuss the show, comments go below.
There's live radio coverage of the show on the internet, starting at 7:30.
8:30 Update – the show should be starting, but if you can't wait to find out next week's main event…
As of 9:20 CST
Live result threads besides the audio
– Satanico's Mansion
– box y lucha
1) Metalico, Stuka Jr., Valiente b Euforia, Loco Max, Nosferatu
– I think, not sure, but the announcers mentioned it. This post seems to say so.
2) Dark Angel, Luna Magica, Marcela b Amapola, Hiroka, Princesa Sujei
–1) Tecnicas
–2) Rudas
–3) Tecnicas
Valiente's being interviewed by the announcers. He seems to be fence sitting on the main event.
3) La Mascara, Ultimo Dragon, Volador Jr. vs Misterioso Jr., Texano Jr., Virus
–1) Rudos
–2) Tecnicos (with help from Que Monito)
–3) Tecnicos (La Mascara beats Virus with La Campana)
4) Alex Koslov, Sagrado, Sombra b Ephesto, Sangre Azteca, Toscano – entrances
–1) Tecnicos
–2) Rudos
(Cubs win the division HERE and I get distracted by people pouring liquor on each other)
–3) Tecnicos (Toscano yanked Sombra's mask for the DQ)
5) Marco Corelone, Negro Casas, Rey Bucanero b Averno, Mephisto, Olimpico
–1) Rudos
–2) Tecnicos
–3) Tecnicos (CO after Corelone wiped the rudos out with a dive)
That's 5 tecnico wins. Hmmmmmm.
Dance number in between matches. They don't have enough time for matches! (Oh, right, they're putting up the cage.)
On Now
6) Mistico vs Hijo del Perro Aguayo, Villano V, Dr. Wagner Jr., Ultimo Guerrero, Hijo de Lizmark, Blue Panther, Atlantis [cage, hair, mask]
Order of entrances
Villano V
Blue Panther
Hijo de Lizmark
Atlantis
Ultimo Guerrero
Dr. Wagner Jr.
Perro Aguayo Jr.
Mistico – starts to get booed (maybe 65/35 for him) and the announcers talk over it.
Mistico big plancha – CHECK!
We're into the time killing while waiting for the cue to split.
Order of exit
1) Villano V!
the guy who isn't Julio Cesar and isn't Valiente is sounding like he's going to run out of oxygen at any time.
2) Atlantis, leaving UG behind
3) Dr. Wagner Jr.
Mistico big dive #2
4) Ultimo Guerrero
5) Mistico
Perro Jr., Lizmark Jr. and Blue Panther remain. It appears it will be a triangle match from here, which is different – Babe Richard is entering the cage.
6) Perro Aguayo wins his way out.
Holy carp, Blue Panther vs Lizmark Jr. really is your anniversary main event. I hope CMLL doesn't make me very sad in the next five minutes.
7) BLUE PANTHER MAKES LIZMARK JR SUBMIT!
Lizmark Junior's stats:
Name: Juan Carlos Baños
Experience: 16 years
Hometown: Acapulco, Guerrero
I'll post show reports links here if they turn up in the next couple of hours. Otherwise, see you tomorrow and thanks for reading.
Lizmark Jr. unmasked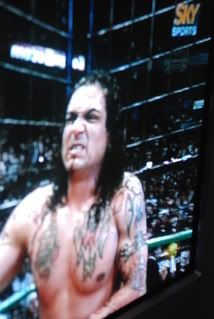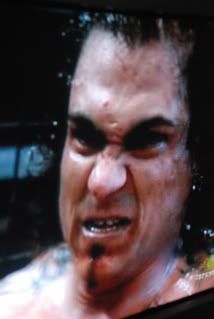 Live Notes
– Galeno del Mal @ box y lucha