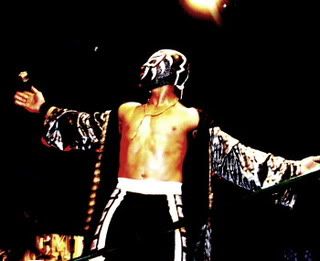 Alexis for CMLL
CMLL (SUN) 03/30 Arena Coliseo Guadalajara
1) Milenio b Novato
2) Valentin Mayo b Thunder Boy
3) Casanova & Oro II b Fraile de la Muerte & Guero Loco
4) Metal Blanco & Metalik DQ Depredador & Vaquero
5) Mascarita Dorada & Tzuki b Pequeño Damian 666 & Pierrothito
6) Averno, Mephisto, Terrible b Grey Shadow, Marco Corelone, Sagrado
I went over the top two yesterday. Vaquero got DQed for fouling Metal Blanco in the fourth match. Vaquero shouldn't be investing any money in haircuts.
indy (SUN) 03/30 Arena Xalapa [escualoasesino]
1) Nino Malo b Zafiro (Veracruz)
2) Century 2000 & Nimbus b Bat Boy & Black Jack
3) Enigma, Kato, Kid Dragon, Tormenta b Blue Angel, Cancerbero Jr., Shun Ly, Trueno Infernal
4) Angel del Misterio, Batman, Cyborg (Veracruz), Junior b Acero, Kronos (Veracruz), Relampago Cadena, Tormento Chino
5) Apolo Segovia, Black Baby, Matrix, Triple X b Apolo, Misterio de Plata, Rey Egipto, Sangre y Fuego
6) Matematico Jr. b Hijo del Buitre [mask]
Hijo del Butire is Javier Flores.
indy (THU) 04/03 Arena Olimpico Laguna de Gomez Palacio []El Siglo de Torreon]
1) Cadet de la Atlantida I & Cadet de la Atlantida II vs El Sadico (Laguna) & Venum (Laguna)
2) Rey Fobia & Scriba Jr. vs Moro Jr. & Pequeno Cometa
3) Brillante I, Sexy Piscis, Stuka I vs Mensjero de la Muerte, Mr. Guerrero, Scriaba
4) Difunto I & Difunto II vs Piloto Negro & Piloto Suicida
Besides the lineup, there's a passionate takedown of local referees, commissions, and promoters for killing lucha by not exerting any control over the referees (who might as well be wrestlers for all their participation) and the matches. And then the article switched to noting only 20% of the local wrestlers have gotten licensed so far, which actually seems up.
indy (SUN) 04/06 Arena Coliseo Monterrey [RFC]
1) Aguila Extrema & Virutal X vs Euforia (Monterrey) & Iron Extreme
2) Mascarita Sagrada 2007 & Mini Dizzy vs Mascartia de la Muerte & Mini Histeria
3) Billy Boy & Fabi Apache vs Gran Apache & Mari Apache
4) ?, La Momia, Pimpinela Escarlata vs ?, Antifaz del Norte, Psicosis II
5) Abismo Negro, Joe Lider, Ultimo Gladiador vs Killer Clown, Psycho Clown, Zombie Clown
Goddess appears to have changed her gear. Yay.
According to SuperLuchas, Vangelis is in CMLL (today) in hopes of beating Mistico and winning his title back. It's good to dream. I should have more from them tomorrow.
Small time wrestler and big time serial killer Maraviejtas was sentenced to 759 years in jail for her 11 confirmed murders (and other assorted crimes.) Mexican law caps that at 50 years, which doesn't make any sense to me.