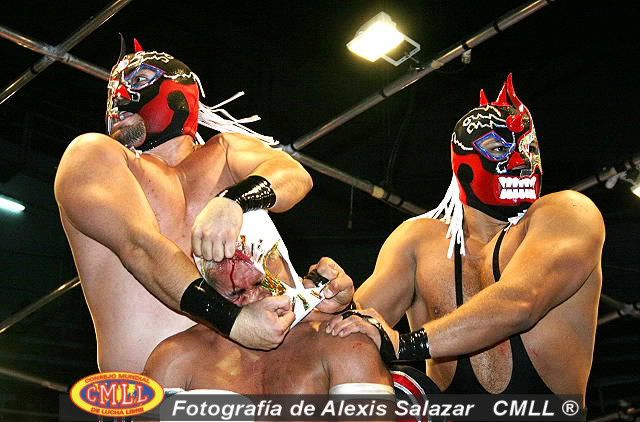 CMLL (TUE) 01/10 Arena Aficion Results [ova]
1) Hidroman, Gato Negro b Concord, Azteca de Oro
2) Flecha, Blade b Mensajero de la Muerte, Intruso
3) Tigre Metalico, Tigre Blanco b Masada, Titan
4) Atlantis, Rey Bucanero b Héctor Garza, Damián 666 [Triangle Match, 1st Fall]
5) Rey Bucanero, Atlantis DQ Máscara Año 2000, Universo 2000 [Triangle Match, 2nd Fall]
6) Damián 666, Héctor Garza DQ Universo 2000, Máscara Año 2000 [Triangle Match, 3rd Fall]
Not sure why they did all three matches, but maybe since the second match was so short, they figured they might as well. Typical hair match challenges after the main event.
AAA (TUE) 01/10 Arena Juba de Reynosa Results
1) Guerrero del Camino & Punos de Serpiente b Black Star & Guerrero Estrella
2) Imagen I & Titan Jr. b Sangre Chicana & Sangre Chicana Jr.
3) Asterisco & Halcon de Oro Jr., Turok b Dakota, Hator, Maldicion
4) Cassandro b Pimpinela Escarlata
5) Corazon de Barrio b Estrella Dorado Jr. [hair]
CMLL (MON) 01/16 Arena Puebla Lineup
1) Valiente, Kirvan, Forajido vs Flecha, Mr. Rafaga, Ares
2) Asturian, Trueno, el Tigre vs Furia Chicana, Siki Osama, Bobby Jack
3) Starman, Centella de Oro, SWAT vs el Hijo de Gran Markus, Kraken, Maniacop
4) Dr. Wagner, Mr. Niebla, Ultimo Dragon vs Canek, Damian 666, Perro Aguayo Jr.
5) Mistico vs Avenro [NWA MW]
WWE (THU) 01/19 Palacio de los Deportes, Mexico City Lineup [ova]
1) the Boogeyman vs Sylvan
2) Bobby Lashley vs Orlando Jordan
3) Heidenreich & Road Warrior Animal vs the Dicks
4) MNM ("Adam Carlon" & "John Hennigan") vs Psicosis & Super Crazy [WWE TAG]
5) Chris Benoit vs JBL
6) Undertaker vs Randy Orton
7) Rey Mysterio vs Booker T
Card order may not be correct. Batista and Bob Orton are off due to injury, and [SmackDown! Spoiler] has not been taken into account, but there's still quite a few people shuffled off because they went to more singles matches; Matt Hardy, Simon Dean, Paul London, Jamie Noble, William Regal, Paul Burchill were all listed on cards; the current ones on WWE.com have Mark Henry basically taking Bob Orton's spot and he's not here either. Not sure if the US Title would be on the line for whoever has it at this point, and kinda surprised Booker's back in the ring.
I can't believe they announced MNM's legit names (and I didn't realize I didn't know Joey Matthews' real name until now), but that's Mexico for you.
Mysterio, Super Crazy and Psicosis all talked at the press conference. Rey is indeed wearing his mask. They're going to have increased security for the show. There's plans for an Eddie tribute on the show. Rey said Batista is undergoing surgery today (Thursday), but if his doctors allow him, he'll try to make an appearance on the show, though depending on the source, that sounds less certain. They explained Juvi was let go for discipline problems and didn't want to dwell on it.
Besides Ovaciones, there was coverage of the press confrence in
* La Jornada – Rey says here that some of the US guys are scared of a stiff lucha ring; I can't believe they'd actually use a lucha ring.
* La Cronica
* El Universal Online – under the impression Paul London is a star!
* Diario de Mexico
* Once TV – Psicosis credits Eddie and Rey for helping him with US psychology.
* Whatever newspaper someone took a photo off here (via box y lucha)
Speaking Box Y Lucha, I think I must be imagining a thread where posters are debating which matches were real and which are fake. Then again, I guess I could see why you might think a Canek match might not be on the level.
While I'm clipping news articles, there's some press for Nacho Libre on ET Online and Latino Review, an interview with the director of the movie. He's a huge Santo movie fan, which explains everything. Interestingly, the story here is the movie couldn't be actually based on Fray Tormenta because that movie was already made (in French!), and someone else owns the rights.
el Halcon #53 is not up; they're doing some work on the website, so they only have a small supplement of their usual content
- Interview with Ricky Marvin in Japan. He doesn't understand why he's not a bigger deal (or booked as a bigger deal) in Mexico.
- Pictures from Arena Solidaridad
- Poster of Dr. X
In their forums, a poster is starting a Year In Review of Arena Solidaridad events, including pictures of the main events.