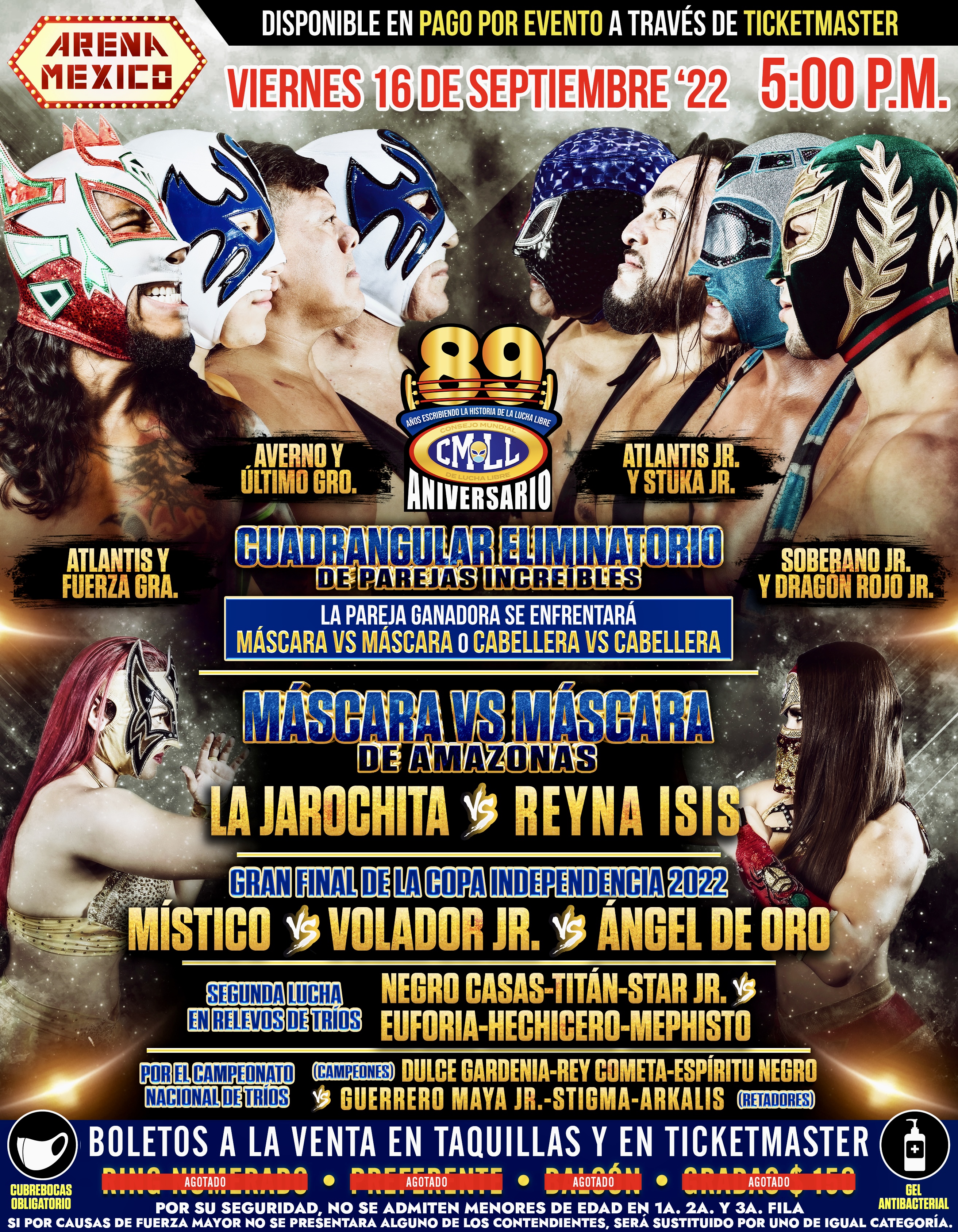 CMLL
Today is the CMLL Aniversario show. Perhaps you've heard. The show is sold out, so they only way left to see is via TicketmasterLive (or go talk to a scalper, I suppose.)
It's a 5 pm CT start. That's early. Please remember this.
It's no VOD.
The Angel de Oro vs Mistico vs Volador Jr. is now a normal three way.

Mistico was happy about this. I kinda prefer the balls to have two singles matches

we don't know who is facing who in the tag team tournament and won't know until the battle royal.
it sure seems like it's either Atlantis Jr. beating Stuka Jr or Soberano Jr. beating Dragon Rojo
I'd guess it's La Jarochita beating Reyna Isis but I wouldn't put any weight on it.
I've got a longer preview over on Voices of Wrestling and I'll be recapping the show for PostWrestling. I'll probably not be on Twitter as much to get that recap done. You'll manage.
ESTO continues their Aniversario show interviews with Fuerza Guerrera (who insists he is a normal person and that's why people like him)
In another interview, Fuerza Guerrera believes he revived Atlantis' "dead career due to injuries" by feuding with him. Guerrera says he does like Atlantis Jr.
CMLL (SAT) 09/17/2022 Arena Coliseo
1) Acero, Aéreo, Kaligua vs Mercurio, Pequeño Polvora, Pequeño Violencia
2) Astral, Cachorro, Leono vs Grako, Inquisidor, Raider
3) La Jarochita, La Vaquerita, Lluvia vs Hera, Reyna Isis, Tiffany
4) Atlantis, Blue Panther, Esfinge vs Felino, Fuerza Guerrera, Virus
5) Fugaz, Soberano Jr., Stuka Jr. vs Atlantis Jr., Dragón Rojo Jr., Gran Guerrero
Stuka Jr., Soberano, Atlantis Jr., and Dragon Roj in the main event. Fuerza Guerrera and Atlantis in the semimain. They probably would be in the main event if one of them were losing their mask.
CMLL (SUN) 09/18/2022 Arena México
1) Bengala & Retro vs Apocalipsis & Cholo
2) Micro Ángel, Micro Gemelo Diablo I, Micro Gemelo Diablo I vs Átomo, Chamuel, Periquito Sacaryas
3) Flyer, Hombre Bala Jr., Robin vs Akuma, Dark Magic, Espanto Jr.
4) Dark Panther, Star Black, Volcano vs El Coyote, Okumura, Rey Bucanero
5) Negro Casas, Panterita del Ring, Volador Jr. vs Cancerbero, Luciferno, Terrible
None of the main Aniversario wrestlers here.
CMLL (MON) 09/19/2022 Arena Puebla
1) Meyer & Neón vs Espíritu Maligno & King Jaguar
2) Micro Gemelo Diablo I & Micro Gemelo Diablo II vs Átomo & Chamuel
3) Astral & Oro Jr. vs El Perverso & Prayer
4) Magia Blanca, Magnus, Rugido, Volador Jr. vs Arkalis, Guerrero Maya Jr., Pegasso, Stigma
5) Místico, Soberano Jr., Stuka Jr. vs Atlantis Jr., Dragón Rojo Jr., Último Guerrero
Same two feuds (and Ultimo Guerrero) in the Arena Puebla main event. Fuerza Poblana versus Los Depredadores in a rare atomicos might be setting up something. Neon makes his Puebla debut.
The Tuesday Arena Mexico show is the special Dia de Luchadors show, already announced.
CMLL (TUE) 09/20/2022 Arena Coliseo Guadalajara
1) Avispón Negro Jr., Bello Antuan, Cosmos vs Bobby Black, Relámpago Azul, Tigre Blanco
2) Jhonny Dinamo, Obelisk, Último Ángel vs Persa, Raven, Temerario
3) Halcón Negro Jr., Optimus, Trono vs Crixus, Nitro, Sangre Azteca
4) Ángel Rebelde vs Huitzil [lightning]
5) Gemelo Diablo I, Gemelo Diablo II, Sagrado vs Furia Roja, Guerrero de la Muerte, Ráfaga
6) Atlantis Jr., Místico, Soberano Jr. vs Hijo del Villano III, Terrible, Zandokan Jr.
Los Gemelos Diablos are listed as "Los Malditos" on the poster. There is a local indie act that says they have the rights to use Los Gemelos Diablos name, though it's never come up in the past. Interesting spotlight lightning match.
Guadalajara will also have their own Dia de Luchador show on Wednesday. It'll be a free show and will include local indie luchadors.
CMLL says voting for the Night of Champions shows ends on 09/21, so I guess we'll get the winners on next week's CMLL Informa. The leaders have been nearly static since the voting started. The only three battles under a thousand votes
the NWA Middleweight Championship (Mistico) has a 340 lead on the CMLL Welterweight Championship (Titan) for the main event spot
Rugido leads Soberano by 405 votes for the match with Mistico.
Either of those could change with a pretty big push, but I don't sense anything is coming. These seem less competitive this year and I'm not sure of a specific reason.
CMLL made a lot of announcements for their October shows. The biggest news was the CMLL Gran Prix de Amazonas, which will take place on 10/28. The teams announced
Team Mexico: Dark Silueta, Dalys, La Jarochita, Reyna Isis, Lluvia, Marcela, Princesa Sugehit
Team World: Lady Frost, Stephanie Vaquer, Tae Honma, Hikari Shimizu, Alex Gracia, Mei Suruga, Avispa Dorada
That's 7 v 7. Last year's Gran Prix de Amazonas was also 7 v 7. This year's men's Gran Prix was also originally 7 v 7, then CMLL announced Mistico and Mesias were added along the way. 7 0r 8 isn't a big deal, except Fabi Apache currently exists as a free agent, this would be the best month for CMLL to bring her in if she was ever coming to CMLL and that's an announcement that would come separate from this teams. I've got no information that she's coming to CMLL but it's looming over this setup.
Avispa Dorada returned for a few weeks this time last year to be part of this and it seems like that's happening again here. Honma was in for a week in 2019 and won a tournament to get this chance. Shimizu lost to Honma but I guess that's close enough. Gracia was among a group of Texas wrestlers brought to Mexico for a week by Big Daddy (Yum Yum) who all got one match and seemed to wrestle under whatever name was on their passport rather than their normal working name. (Gracia was Alexandra.) Lady Frost is a US indie wrestler who was under contract to Impact and was in the news recently for trying to get out of that contract. Sugura wrestles for a lot of promotions in Japan but is primarly with Gatoh Move/ChocoPro, a group which increased it's fanbase greatly among Twitter folks with lots of free streaming small room shows during the pandemic. Sugura appeared with Emi Sakura in AEW for a few months and had a match there. She got the biggest social media reaction of those announced, which I would've expected but I'm not sure CMLL does.
CMLL also confirmed the dates for the CMLL Universal de Amazonas. La Jarochita won the 2021 competition, Dalys the 2019 version. The blocks will be on October 7 and 14th, with the final on the 21st. Some of the women for the Gran Prix may be in early to fill out those blocks (ciberneticos) or they'll be smaller matches than usual for a tournament.
That puts the CMLL upcoming Friday schedule as
09/16 Aniversario
09/23 is probably something involving the finalists tonight
09/30 Noche de Campeones
10/07 CMLL Universal de Amazonas Block A
10/14 CMLL Universal de Amazonas Block B (this is the TripleMania weekend)
10/21 CMLL Universal de Amazonas Final
10/28 CMLL Gran Prix de Amazonas
11/04 is probably a Dia del Muertos-themed show
Satanico accompanied the Guadalajara team for their cibernetico against Puebla on Monday. Mas Lucha caught up with him after the show. Near the end, he's asking if he might return for another run and Satanico says it's the opposite – all cycles comes to an end, and he thinks he's in his last year of wrestling. I'm not sure if we're meant to take that literally, like he's meant to retire at the end of the year, or just as a more vague statement. Satanico turns 72 in October.
CMLL is posting congratulatory videos for today's Aniversario, featuring a lot of famous people I don't know. Two people I do know are NJPW's Naoki Sugabayashi and Hiromu Takahashi. Sugabayashi mentions NJPW hopes to do FantasticaMania next year if COVID (and COVID restrictions permit it.) That's kinda of what we figured; it's good to hear it, it's too bad there's still no definite word. This is usually the time of year where the decision on who would go would seem to be made. Takahashi teases a LIJ coming to Mexico in 2023, which again is something you'd hope to see.
Mascara Dorada
Mas Lucha posted an interview with Mascara Dorada on Wednesday. I suspect it may be a week or so old, because Dorada doesn't bring up his challenge for mask match to Mistico in there. It's still pretty recent and in obvious reaction to fans and vloggers who suggested he was abandoning CMLL by working for Impact. Those stories are likely coming back for another run after Dorada appeared on AEW Dark Elevation, in a match to air Monday. Dorada's main point here is he's a CMLL and NJPW wrestler foremost, loyally so, and and he'll work wherever they might as him ask to work. That includes Impact and AEW, but appearing in those places doesn't change his goals – he wants to go back to Japan with NJPW and back to "my home" Arena Mexico. Dorada mentioned, at least at that time, he had no contact with AAA or AEW and it was actually NJPW who were the first people to reach out when he departed WWE. Dorada has remained wrestling only in the US; he explains he's waiting for a US green card, it's taking a long time, and he can't leave the US (where he plans to be based) until it happens. Dorada seems to suggest NJPW already wanted to bring him there; I think there's a good chance he was meant to be in Titan's spot for the BOSJ and that's an indication now how long this has stretched on. That probably also informs the AEW & Impact work; Dorada likely figured he'd be picking up dates outside of the US by now, he hasn't, and and he could use the additional bookings. It's not about jumping to AAA, because he literally can not work an AAA show at the moment.
Mascara Dorada was complimentary of WWE and said every Mexican luchador should strive to go there and learn from it, even if it hasn't worked out great for everyone. He wanted out because he wasn't getting to wrestle much or compete for championships, but he also noted WWE paid for the house he was streaming from so he has a lot to thank them for. Dorada was positive on both Vince McMahon and Paul Levesque (HHH), saying Levesque was the one who brought him in and gave him a chance to come back to NXT to have some good matches near the end of his run. In possibly related news, Lince Dorado announced he was not taking bookings into 2023
The Dorada in AEW match was a (spoiler) victory, which means AEW probably has more plans for him. Dorada's match on Impact against Mike Bailey was fine; it's weird to do a spotlight mask for Mascara Dorada without him doing a Brillo Dorado, but that's what happened.
AAA
Space finishes off the AAA Torreon taping on Saturday at the normal time.
Charro Negro, Mr. Iguana, Niño Hamburguesa vs Carta Brava Jr., La Hiedra, Takuma
Dave The Clown, Murder Clown, Panic Clown vs Rey Escorpión, Taurus, Villano III Jr.
Lady Shani & Pagano vs Chik Tormenta & Cibernético
I delayed airing it last week to fix the audio issues and might do it again if there are audio issues. I wish I knew these things in advance or didn't have to deal with them entirely.
No TV taping or any other specific big show this weekend. The roster is scattered around the country working various spot shows.
It's going to be weird if there's no AAA TripleMania press conference early next week. Or, at least an announcement is happening that week. Today's WON updates the Reina de Reina title situation: AAA says they tried for Ruby Soho (injury) and Toni Storm (unavailable), so they're looking outside of AEW. They are still set on getting an US-based wrestler for that spot.
There's also an update on Octagon Jr. They did a TV angle to set up an eye injury because he really did have an eye injury; he suffered a detached retina on a dive and "was close to needing a retina or corona transplant but through treatment was able to avoid it." That means Octagon Jr. probably lost some level of vision on the injury and has been working to regain it.
The 11/04 AAA spot show in Aguascalientes show has Lucha Brothers vs Dralistico & Dragon Lee and Vikingo vs Laredo vs Flamita. That promoter often streams the big matches on their Facebook page.
IWRG
2000-06-15: Dr. Cerebro vs Ciclon Ramirez vs Bombero Infernal
2002-08-01: Guerra C-3 & Zonik 2000 vs Black Jaguar & Maligno

IWRG lists this as 2001-02-22; I'm using the luchadb date

2000-06-15: Ryo Saito & Multfacetico vs Millonario & Leon del Ring
These are all matches on tape lists but haven't been put online. Archived footage is something rare to see posted by promotions, so make sure you give these videos a thumbs up and/or a positive comment to let them know you want to keep them doing it.
Segunda Caida has a recap of the first IWRG Retro episode.
Today's the Hellboy vs Caballero de Plata hair match, which I would be totally excited for if it wasn't happening straight up against the Aniversario. It has the potential to be the best IWRG match of the year and a career-making match for both people. This is a free Mas Lucha show and a good alternative if you're not interested in CMLL and want to watch some lucha today.
The poster lists Hijo del Fishman vs Hijo del Pirata Morgan for the IWRG Rey del Ring match. That was weird because Alebrije and Pirata agreed on adding to Alebrije to the match on Sunday, before the poster was released. Turns out Hijo del Alebrije was officially added Thursday night, so it will be a three way.
IWRG (SUN) 09/18/2022 Arena Naucalpan
1) Spider Fly vs Feroz
2) Bengalee & Therius vs India Mazahua & Satania
3) Asterboy, Luka, Noisy Boy vs Fly Warrior, Nishikawa, Paymon
4) Tonalli vs Puma de Oro [IWRG IC MIDDLE]
2nd defense
5) Abismo Negro Jr. & Mc-360 vs Diva Salvaje & Jessy Ventura and Gran Pandemónium & Pandemónium Jr.
6) Cerebro Negro Jr. & Oficial Fierro vs Cerebro Negro & Oficial AK47 [relevos suicidas]
7) ? vs ?? [mask, hair]
This is a Mas Lucha premium show. It'd be weird if Cerbero Negro Jr. and Atlantis Jr. got big wins right after each other. Tonalli/Puma should be good before the run-ins. I like that they have the Dragongate rookie wrestling furry  creature Luka for maximum weirdness.
This week's IWRG Revolucionario featured an update on Teelo. IWRG (and Los Negociantes, separately) were running fundraisers to support Teelo's drive to get a prothestic leg. He'd lost one in a motorcycle accident. They were able to raise enough money and they showed how he was now able to walk. He was using a cane in the other segment, I'm not sure if he'll reach his dream of wrestling again, but it's still great progress.
IWRG's holiday party will return on 12/02. This was a pre-pandemic tradition. IWRG seems to be putting a lot of emphasis on it's December celebrations this year because they're hitting a nice round number of 60 years of promoting. Usually that means a big match, but it's not obvious what that would be. Bengalee/Satania may still happen eventually but that doesn't seem like it.
Other News
LuchaWorld has the latest Lucha Report.
There are so many shows this holiday weekend. I'm far behind on adding them all –  haven't even gone through Alfredo's posters – but it does feel like a 'normal' terms of schedule, with as many shows as you might expect pre-pandemic. Kid's Day had a huge number and one of these weekend days won't be far behind once I get a total. The Evil Ninja Turtles also seem to be working everywhere at once.
MLW announced the winner of the Flammer/Shani/Dorada/Hiedra winner on Sunday's taping will face Taya for the MLW Women's Featherweight championship on the same night. It's a TV show split up over multiple weeks so that makes sense, though it also means the winner (or Taya) is likely not in the plans past this taping. I hadn't really thought about it, but MLW should draw really well in a lucha libre venue with a lot of luchadors on Mexican Independence Day weekend.
Impact announced an eight-person #1 contenders match for their 09/23 Victory Road PPV, with the winner getting their shot at Impact's big Bound for Glory show. Laredo and Taurus are both involved, seem like longshots to win. It seems more important to Impact to have a NJPW or AEW person involved in that sort of match than an AAA one.
MexWrestling announced a 10/01 show back at Arena San Juan with Aramis. The show is called "Solo Buenas Luchas", which is a hard promise to keep. MexaWrestling has not run since New Year's Day; the person behind it has been focused on IWRG instead.
A preview of the Fantasma Jr. vs Endevaor mask vs mask match.