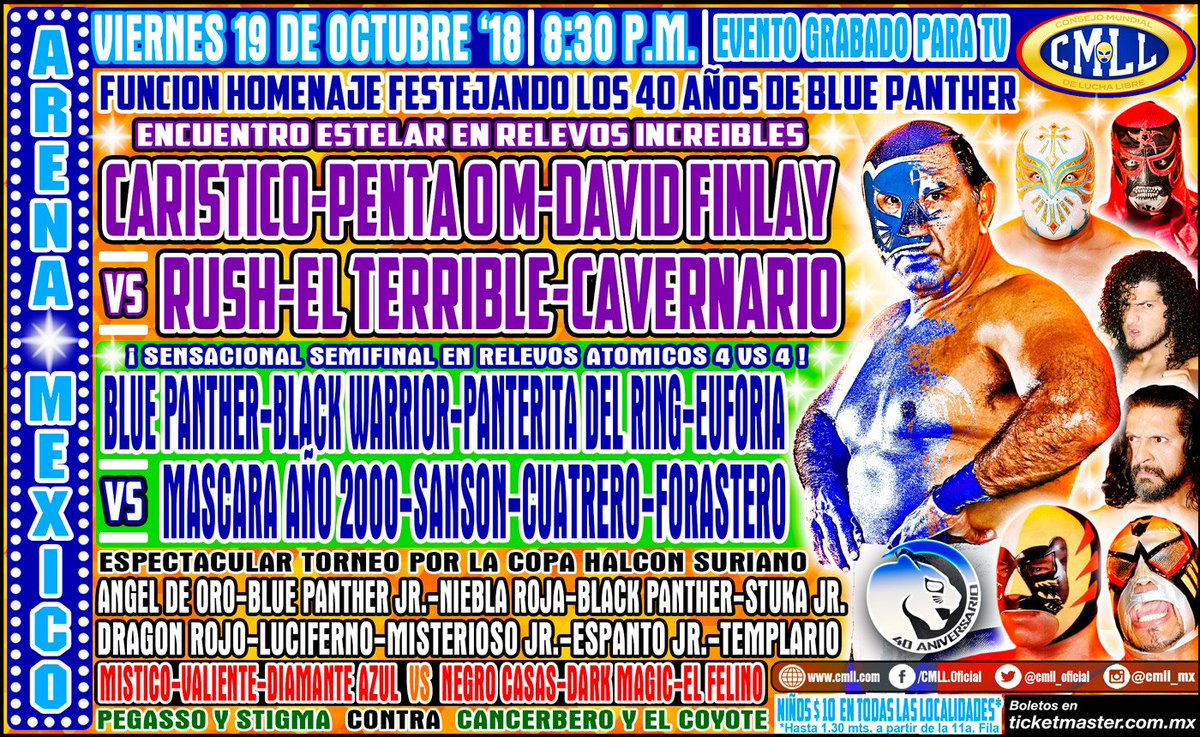 Both CMLL & AAA are running streams tonight. CMLL starts a bit sooner, but the bulk of the shows will be on the air against each other. CMLL's the bigger show of the two, honoring Blue Panther for his 40th Anniversary. AAA's show doesn't seem to have much relevance to anything going on beyond the AAA/Elite rivalry.
The actual CMLL main event doesn't seem immediately relevant to anything either, but they have some directions to go. Penta 0M makes his first Arena Mexico appearance since the Anniversario to team with Caristico and David Finlay against Cavernario, Rush and Terrible. Penta came into CMLL to feud with Caristico and their fans seemed interested in the idea, but it seemed to get dropped before they got to the singles match. They might restart it tonight. Rush/Penta is also another big match that hasn't ever been done in Arena Mexico, and there's history with Rush & Terrible attacking Penta after teamed a couple months ago. CMLL probably wants a big match on 11/02, the Kaoz/Guerreros feud has disappeared again, and Penta/Caristico or Penta/Rush would work. I am writing all of this before figuring out if Penta is actually free on 11/02, which may be a terrible mistake. Rush/Caristico could work as well.
Blue Panther will be honored for 40 years in the semi-main (which again seems like they might be setting up something up in the main event.) It's part of a celebration of luchadors for the (Comarca) Lagunero area of Mexico: the cities of Torreon, Coahuila, Gomez Palacio, Durango and smaller nearby cities like Ciudad Lerdo. Blue Panther teams with Black Warrior, Euforia, and Ephesto, returning to his original character of Panterita del Ring. Panterita del Ring was a popular star in Northern Mexico (Monterrey/Torreon/Juarez) in the late 80s/early 90s, when the business was strong in the area and it existed as a sort of territory of its own. The opposition will be a team representing the state of Jalisco: Mascara 2000 and his nephews Forastero, Cuatrero, and Sanson.
The fourth match honors trainer Halcon Suriano. Jose Fernandez wrote a bio of his that's still on the luchawiki; the shorter version is he was a legendary trainer who is lesser known because the area didn't have the same direct connection with big promotions. The match itself will be a 10 man cibernetico, where the two Panther kids are the obvious favorites. Stukita will debut as Halcon Suriano Jr. in presenting the trophy to the winner.
Diamante Azul, Mistico and Valiente take on Dark Magic, Felino and Negro Casas in the second match, all much lower than usual. Pegasso & Stigma versus Cancerbero & El Coyote open the show.
CMLL starts at 8:30pm The show will air on Marca and Facebook. I'll probably stream it on YouTube.
Lucha Central has a preview of this show.
In El Grafico, Blue Panther says his youngest son (Hijo del Blue Panther) could debut in 2019. In Diario Basta, Blue Panther credits Panico, Jose Luis Feliciano, and Franco Colombo for coming up with the idea of the atomicos match. That seems unlike CMLL. Panther says Fantasma gave him permission to wear his mask. I wonder if Black Warrior will be wearing his as well. Panther suggests here he'd retire soon after that third soon debuts.
CMLL has Blue Panther losing his mask and Blue Panther taking Love Machine's mask as the #3 & #2 moments in his career. The #1 moment is reaching four years of wrestling.
Prior to the show, at 6:30 pm local, CMLL will have a press conference to discuss the Dia de Muertos shows. I suspect this will mostly be about the art; the artists who are involved every year were on the last few minutes of Informa this week.
AAA has what it's calling a Twitch-exclusive show tonight from Arena Naucalpan. AAA's talked about doing this with matches earlier this year and they ended up airing on TV anyway because they needed to air something. AAA is so far ahead on TV tapings that they probably can live up to the hype and not air this one anyone. I do not know if that means it'll live on Twitch only, or if it'll end up on YouTube eventually.
"This is a taping AAA TV can skip" is also a hint about the level of this card. Maybe too harsh one: Dr. Wagner & Psycho Clown are in the main event, so AAA is trying to put on something close to a normal TV taping level card. It's just a bunch of matches in the AAA vs Elite context. AAA or Elite winning hasn't really meant anything, so we're stuck just hoping the matches will be good. Some look like they might be. Others include Pagano.
The main event is Psycho Clown & Dr. Wagner vs Hijo de Dr. Wagner & Electroshock, a match that almost looks like it was transported from the first couple of months of the year when Wagner/Wagner was a feud AAA was interested in. Rey Wagner missed the last TV taping but appears as if he'll be on this one.
Joe Lider & Pagano face Laredo Kid & Taurus in the semi-main, something that probably would be better if the two teams faced each other rather than teaming up. AAA seems strong on the Pagano/Lider team, even though they seem like they've been better as opponents for what they want to do.
Bengala makes his first streaming appearance since Rey de Reyes in the tercera. The Dragon Lee reality show bit is not great for him and not great for us, but no one's been more had their career more derailed by a reality show than Bengala has this year. He was part of the top feud with Fantasma & Texano, left for the show, suffered a bad foot injury jumping into water, and got completely lost in the mix when the booking regime changed. It appears Bengala is only part-time in AAA now and taking outside work as Super Nova just to get some work. He'll have a chance to make a good impression tonight, teaming with Aerostar & Hijo del Vikingo against Demus, Emperador Azteca and Impossible. Imposible also could use a good night; he was the been the best guy in IWRG not to really get booked in high profile places elsewhere but has been quiet even in IWRG most of the year.
Poder del Norte take on Ciclon Ramirez, Golden Magic, and Jack Evans. It doesn't make sense for Jack to be on this team, and Poder del Norte will probably roll to the win. Faby Apache, La Hiedra & Vanilla face Keyra, Lady Maravilla and Starfire in the opener; these matches have been great lately and this should be the same.
AAA lists their show as starting at 8:45 CT. That means it'll probably be closer to 9:15 before the first match his the ring. It'll all be streamed on Twitch.
LA Park is off next week's Heroes Inmortales. So are Hijo de LA Park, Juventud Guerrera, and Puma King. Marisela Pena's Twitter account quietly put out a new poster for the show last night. The semi-main is now Psycho & Murder versus Kevin Kross and TBA. There a few changes to the undercard, most notably Poder del Norte taking the place of the MAD team in the three-way trios match. LA Park confirmed he and his son are off Heroes Inmortales, but would not say why.
LA Park, when given a direction and a rivalry, has proven to be effective in both CMLL and AAA. LA Park, when just an upper-level name listed on lineups with no fanfare, has not been effective. AAA's been resolute on not picking a feud for LA Park – or for Hijo del Fantasma or Psycho Clown – since TripleMania. Just throwing LA Park matches also leads to unhappy LA Park moments. If AAA (or CMLL) can't come up with something to do with LA Park, it's probably best for LA Park and for the promotion for him to disappear until they do.
There's one other notable show with a lucha libre connection today: PWG's Smokey & the Bandido takes places in Los Angeles tonight. The matches include Puma King vs Flamita vs Rey Horus, Rey Fenix vs Bandido and Hechicero vs Zack Sabre Jr. That Hechicero/ZSJ match is a literal dream match, a match other people have been trying to put together for years and both seemed excited for. It's Hechicero biggest match on the US scene by far – no disrespect meant, ROH trios title tournament. Puma King's performance back at the Battle of Los Angeles seems to have opened a bunch of doors for him in the US. Every indication I've had is Hechicero is not planning on leaving CMLL as Puma did, but obviously, a performance that's talked about here will open more opportunities for him elsewhere. There are fewer stakes in the Rey Fenix/Bandido match – and yet, it still has an earned expectation to be one of the best matches of the year. Rey Fenix has been incredible, Bandido is not far behind, and that crowd loves Bandido. It's going to be incredible.
"El Hombre detras de la Mascara", the new documentary on El Santo and El Hijo del Santo, debuts in Mexico theatres today. Cinepremiere's review sounds like it's the documentary you'd expect from Hijo del Santo and his wife: images and stories never told before but lacking in any depth for unwillingness to criticize or evaluate El Santo.  (It's literally a hagiography.) Codigoespagtui says it's a tribute of a movie, more concerned with preserving the reputation of El Santo than offering insight. It's worth watching for fans of Santo and his son, but people interested in lucha libre would get more out of the Nuestra Lucha Libre series.
DTU says they'll be holding classes on Monday, Wednesday and, Friday nights in Pachuca. Miedo Extremo is in charge of the school They're teaching wrestling basics (no extreme wrestling). Crazy Boy talks about giving children lessons in discipline, punctuality, exercise, responsibility, and respect. I'm not sure what punctuality has to do with lucha libre. Twelve kids were signed up, and they hope to someday have 100 kids training.
Steve Pain is being accused of promising to sell people's masks, taking the money, and never sending the mask, and then disappearing. It seems like Steve Pain has moved around a fair bit the last couple of years – he was definitely back in Mexico for a while this summer – so Steve Pain losing track of who he owed while being otherwise busy what do it also possible. Doesn't change that people are still out of money for something they're owed.
This Mr. Niebla interview has no new news about Mr. Niebla's return to CMLL – it's still indefinite – but it does have Stukita and the Villanos kids stealing attention by getting into a fight.
LuchaWorld has the latest Lucha Report.
Lineups
CMLL (TUE) 10/23/2018 Arena México
1) Bengala & Leono vs El Coyote & Grako
2) Astral, Eléctrico, Robin vs Akuma, Espanto Jr., Hijo del Signo
3) Magnus, Stigma, Súper Astro Jr. vs Cancerbero, Raziel, Sangre Azteca
4) Blue Panther Jr. vs Universo 2000 Jr. [lightning]
5) Blue Panther, Kráneo, Volcano vs Felino, Máscara Año 2000, Rey Bucanero
6) Carístico, Stuka Jr., Titán vs Cuatrero, Euforia, Último Guerrero
Raziel is listed in a match for the first time in four months. I hope Tirantes is the referee for that match.
CMLL (TUE) 10/23/2018 Arena Coliseo Guadalajara
1) Neutrón, Principe Daniel, Vaquero Jr. vs Gran Kenut, Guerrero de la Muerte, Mr. Apolo
2) Acero, Aéreo, Micro vs Mercurio, Pequeño Violencia, Relámpago Azul
3) La Guerrera, La Vaquerita, Skadi vs La Comandante, Metálica, Tiffany
4) Esfinge, Rey Cometa, Tritón vs Dragón Rojo Jr., Hechicero, Pólvora
5) Cavernario, Rush, Terrible vs Atlantis, Diamante Azul, Valiente
That main event is close to last week, but there was no feud mentioned.
With Stukita and maybe others moving out of the mini division, there are opportunities for new people to come in (assuming CMLL wants to bother with it.) Locals Micro & Relampago Azul are teaming with the minis here, as they have before.