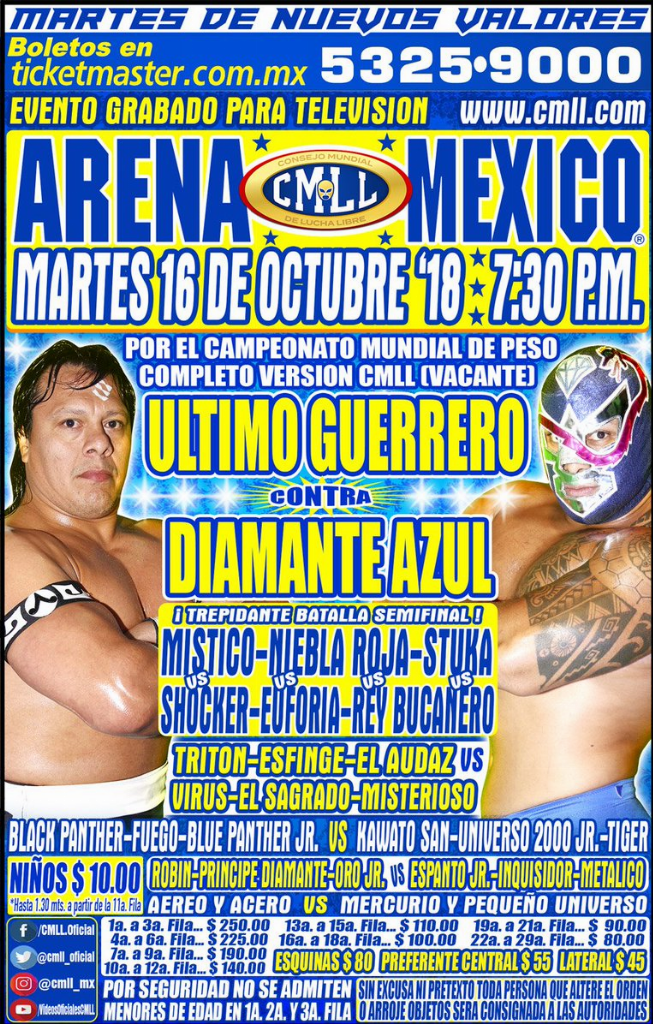 CMLL (MON) 10/15/2018 Arena Puebla [CMLL, Lucha Central]
1) Arkalis, Rey Samuray, Tigre Rojo Jr. b King Jaguar, King Rocker Jr., Toro Bill Jr. 

tecnicos took 1/3
2) Avispa Dorada, Lluvia, Marcela b Amapola, Dalys, Tiffany 

Avispa Dorada replaced Sanely. Tecnicas took 2/3.
3) Kawato San, Okumura, Templario b El Audaz, Stigma, Tritón 

Rudos took 1/3.
4) Ángel de Oro, Diamante Azul, Niebla Roja DQ Ephesto, Luciferno, Mephisto 

Tecnicos took 1/3, the last when Mephisto unmasked Diamante Azul.
5) Euforia, Gran Guerrero, Último Guerrero b Carístico, David Finlay, Mistico 

Rudos took 1/3.
Show sounded like it was OK.
Tonight's CMLL show will crown a new CMLL Heavyweight Championship, with Ultimo Guerrero and Diamante Azul facing for the vacant championship. UG is looking to become a two-time champion, while Diamante Azul attempts to become a world solo champion for the first time. Guerrero just lost the NWA Middleweight Championship a couple months ago, and he usually has a singles title. Having a double champion (Guerrero is a trios champion) helps the Universal math, though it's unclear when/if that thing is happening this year. It'll also be tough for Ultimo Guerrero to have as good a match as he did Friday, this time with Diamante Azul, but he'll deserve a lot of credit if he comes close.
There's not a lot on the rest of the card. Mistico, Niebla Roja and Stuka draw Rey Bucanero, Euforia, and Shocker, which sounds like a few good spots in an average match. Audaz, Esfinge, and Triton face Virus, Sagrado, and Misterioso, which could be good but probably won't be. Fuego continues to be in midcard purgatory, teaming with the Panthers against Tiger, Universo, and Kawato. The opening matches aren't much.
The show will start at 7:30pm on CMLL's YouTube channel.
Los Ingobernables take on Atlantis, Caristico and Dave Finlay in Guadalajara.
Volador Jr. & Soberano won their opening match in the NJPW Junior Tag League over ACH & Ryusuke Taguchi. As a rule, the CMLL rep must win the first match of the league, get off to a good start, and then band things happen. The show is up on NJPW World in English and Japanese.
CMLL will hold a press conference for the Dia de Muertos shows on Friday night, at 6:30 (two hours before the Friday night show.) I assume this will be streamed by I may assume wrong. The Dia de Muertos press conferences tend to talk more about the art and artists involved than announcing any matches.
Unspecified CMLL talent was mentioned as coming back to ROH soon on Friday's PPV, according to this tweet.
The #5 moment of Blue Panther's career, according to CMLL, is winning the Toreno Leyenda Azul in 2000 and being given the trophy by Blue Demon himself.
Lucha Central is doing a week of Blue Panther content, including a look back at his career and his feud with Love Machine.
DTU is opening a school in Pachuca. Negro Casas, Miedo Extremo, Ciclope, Pesadilla, Paranoiko, and Crazy Boy will appear at the opening.
AAA TV in Juarez
Demon betraying Psycho Clown in his last appearance and teaming with him in a month is why it's hard to care all that much about AAA stories. Total waste of bringing in Cage to have him work with those tecnicos. You can see the top of the lineup poster here; Pagano, Joe Lider, Laredo Kid, Hijo del Vikingo, Carta Brava Jr., and Mocho Cota are pictured without yet being announced in the match. No LA Park, Fenix or Penta.
El Hijo del Santo has been promoting his new documentary, which is in theatres last week and this week only. AAA's Arturo Rivera accused Santo of living off his father's name and wasting his career. AAA people are still very unhappy with Hijo del Santo after the lawsuit between them, and Santo usually trashes AAA in these interviews. Santo called Arturo Rivera a bitter alcoholic on drugs. Hugs all around.
The Mascarita Sagrada return was said to be because he was part of a sponsor's commercial campaign. You can now see the commercial, and see Sagrada is a small part of it. (They just needed someone small, and AAA doesn't have any mascots right now.) The focus is really on Chessman vs Guardian del Emperador, the mascot of the Emperador cookie brand.
Space has put up the first episode of its Por La Mascara lucha libre drama up on YouTube for free. Some familiar names work as extra characters on the show.
MexaWrestling will return on 12/08. This is billed as the start of their second season. They had announced they would be taking a break after the August show.
Over at Pro Wrestling Only, JR Goldberg writes about Caifan vs Karonte.
LuchaWorld has this week's Poster-Mania.
+LuchaTV has this week's podcast.
Criterio Hidalgo interviews local Pachuca luchador Sangre Azul Jr.
Lineups
CMLL (SAT) 10/20/2018 Arena Coliseo
1) Bengala & Leono vs El Coyote & Grako
2) Astral, Eléctrico, Súper Astro Jr. vs Cancerbero, Hijo del Signo, Sangre Azteca
3) Pegasso vs Tiger [lightning]
4) Esfinge, Rey Cometa, Tritón vs Misterioso Jr., Sagrado, Universo 2000 Jr.
5) Kráneo, Stuka Jr., Volcano vs Máscara Año 2000, Okumura, Rey Bucanero
6) Atlantis, Carístico, Diamante Azul vs Euforia, Gran Guerrero, Último Guerrero
This is Tiger's fifth lightning match since the start of September.
CMLL (SUN) 10/21/2018 Arena México
1) Arkalis & Sonic vs Apocalipsis & Cholo
2) Shockercito, Stukita, Último Dragóncito vs Pequeño Nitro, Pequeño Olímpico, Pequeño Violencia
3) Audaz, Drone, Fuego vs Disturbio, Kawato San, Tiger
4) Guerrero Maya Jr. vs Dragón Rojo Jr. [lightning]
5) Ángel de Oro, Kráneo, Volcano vs Mephisto, Rey Bucanero, Shocker
6) Atlantis, Diamante Azul, Valiente vs Dark Magic, Euforia, Terrible
Dark Magic gets to be in a main-event. It mostly seems like he's working with Diamante Azul, and Azul is in the main event.
Stukia is back for the first time since July. He missed some CMLL bookings to work elsewhere, which might be why he wasn't getting any more CMLL bookings. Stukita is Halcon Suriano's grandson, so it's noticable he's not part of that Blue Panther show so far.