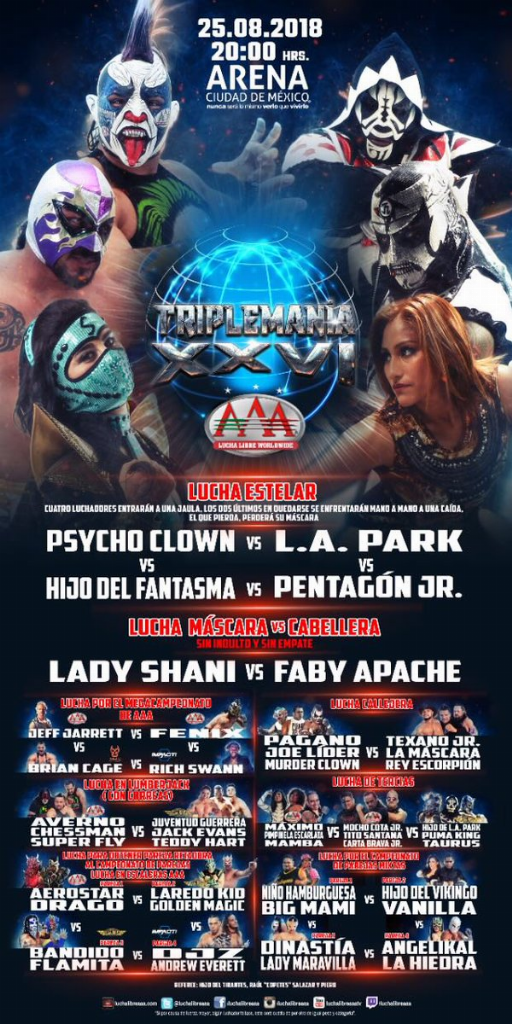 AAA held a press conference to announce the TripleMania card. I'm still not 100% sure what the lineup is after, because this is AAA. Here's what I've got:
AAA TV (SAT) 08/25/2018 Arena Ciudad de México, Ciudad de México, Distrito Federal
TripleMania XXVI
1) ?, ??, ??? vs ????, ?????, ??????
a Llave a la Gloria match
2) Australian Suicide © vs 2, 3, 4, 5, 6, 7, 8, 9, 10 [AAA CRUISER]
3) Big Mami & Niño Hamburguesa © vs Hijo Del Vikingo & Vanilla and Dinastía & Lady Maravilla and Angelikal & La Hiedra [AAA MIXED TAG]
3rd defense (2nd televised)
4) Aerostar & Drago vs Golden Magic & Laredo Kid and Bandido & Flamita and Andrew Everett & DJZ [Ladder, AAA TAG]
5) Mamba, Máximo, Pimpinela Escarlata vs Carta Brava Jr., Mocho Cota Jr., Tito Santana and Hijo de LA Park, Puma King, Taurus
6) Jack Evans, Juventud Guerrera, Teddy Hart vs Averno, Chessman, Súper Fly [lumberjack]
7) La Máscara, Rey Escorpión, Texano Jr. vs Joe Lider, Murder Clown, Pagano [street]
8) Jeff Jarrett © vs Fénix, Brian Cage, Rich Swann [AAA HEAVY]
9) Lady Shani vs Faby Apache [mask, hair]
Shani's mask vs Faby Apache's hair
10) Psycho Clown vs Hijo del Fantasma, LA Park, Pentagón Jr. [mask, cage]
Tour way mask match in a cage. Two people will escape, and the last two will have a one fall match.
There may be more details later. The Villano III death started leaking out just as this press conference was wrapping up, so any articles being written about TripleMania can wait.
The big confusion is about the ladder match. It's on the poster as if it's the second match on the main card. AAA didn't mention it or allude to it during their press conference. It's possible there just wasn't anyone in the match at the press conference. Most matches only had a few people representing it. The way the matches were introduced, they just went from the mixed tag to the three-way trios match as if there's nothing in between them. Asking AAA if the match is happening got no response, but everyone may be too swamped to sort it out. AAA has a tendency just to stop mentioning things that are canceled or they don't want to talk about (keep scrolling for Alberto news.) People at the press conference were under the impression the ladder match is happening.
The cage match part of the main event was not particularly emphasized in the press conference. It's strange because AAA had Psycho Clown talk about not wanting the match to be a cage, and others agreeing with him. Being able to brawl around the ring has helped a lot with the Psycho Clown/LA Park stuff, Pentagon Jr. can do that too, and one of Hijo del Fantasma's big spots is a dive. One dive off the top of the cage doesn't really make up for it, but I suspect the people in the match will just ignore the rules and find a way to brawl outside the cage.
AAA wrestlers questioning a match set-up that was being announced as pretty standard here. Murder Clown did not better understand why he was teaming with Pagano & Joe Lider than the rest of us, saying he didn't trust them. The OGTs wanted to know why Poder del Norte wasn't in their match and putting the trios titles on the line. Vamprio came up with an explanation about needing the most experienced and best team to face the Elite team. Poder del Norte is also facing an Elite team. Either Maximo or Mamba seemed to get confused and believe the OGT team was in their match. Dorian explained Swann & Cage being added to the title match as wanting to include reps from Impact & Lucha Underground in their big title match. Fenix works for both of those promotions just as much as those two wrestlers.
There are some matches on this card I think will be good, and the two apuesta matches should have a lot of emotion. I think everyone inside of AAA knows this TripleMania is not a really coherent lineup. It's instead a compromise to try to get a lot of people on the show, to keep everyone happy. There's 47 luchadors on the main card, plus who knows how many who might be placed in the pre-show matches or just appear as lumberjacks. This is just going to be how TripleMania is going to be until they change their strategy. It still doesn't explain why so few of the undercard matches have anything to with what's gone on TV the last few months: the main event has been built up, but the big angles involving MAD have all lead up to a midcard trios match so far. Maybe there's some explanation of why AAA had Killer Kross destroying people on TV and then didn't find a spot for him on TripleMania – for the second year running! – and maybe the TV angle will build to something in October. Or maybe never.
Dave the Clown is not a cruiserweight and not a young guy, so he won't be on the card. Dave posted a Twitter complaining about a year wasted right after the press conference. People noticed, so Dave deleted the tweet. Even with nearly 50 people booked, there's still going to be people left unhappy. Spots on TripleMania being treated as a right is why this lineup is what it is.
One person who won't be on this show is Alberto el Patron. As the AAA press conference was getting close to an end, Alberto's public relations people issued a statement putting the blame on AAA for Alberto not appearing on TripleMania. Alberto was announced for a match against "one of his favorite opponents" earlier this year. Nothing had been said more about it months, and there were hints for a while that match had been canceled. Alberto's statement named Dorian Roldan by name and said AAA never made the promised deposit and did not meet his terms for participating on the show. Something similar happened last year, where Alberto teased appearing on TripleMania if AAA paid his fee, AAA never paid his fee, and Alberto never appeared. On an overcrowded card, Alberto versus a Jack Swagger (famous LU superstar Jake Strong!) or something similar probably would just take up time that could be better used, and it seemed unlikely to be worth AAA's money to include Alberto this year. I'm sure we'll go thru this all again next year.
The TripleMania schedule looks like this:
7:30-8:30pm CDT: a pre-show, with those first two matches (a Cruiserweight title match + Llave a la Gloria match, no participants mentioned for either), plus a Hall of Fame induction. It's possible they'll also honor Villano III during this part.
8:30-11:00pm: matches 3-9 (from the mixed tag to Faby/Shani)
11:00pm-finish: the four-way mask match
That last match is planned to air live on Canal5 (over the air), which means AAA normally has to wrap everything else by then and the women's apuesta match is most likely to be cut on time. However, Canal5 aired the mask match on a slight delay last year due to other programming going long, so it may not be hard and fast about starting at 11. I'm a little bit surprised the women's match is going on so late because it's been pushed as a second/third match in the lead-up. It's a gigantic opportunity for both women and has a chance of becoming one of the most famous luchadora matches in the history of Mexico.
The entire show will air on SpaceTV in Mexico, using Hugo Savinovich & Jose Manuel Guillen's broadcast. They'll also air that version of the show on Twitch as usual. In addition, AAA will be airing the show on it's English language Twitch feed. Matt Striker and Vampiro return as announcers. Striker & Vampiro gave a thoroughly unprofessional broadcast to TripleMania two years ago, and there's no reason to expect them to act any differently this time. Like many a small-time indie promotion, AAA's made a decision to give the announcing job to friends of the owners rather than trying to find someone who might do a good job, and AAA's going to get exactly the same effort out of it as they're putting into it. I'd question why they're even bothering, but the reason they're bothering is very obviously so Vampiro can get his good friend Striker a payday. It's a grand friendship move by Vampiro, but I'd like if AAA actually put their money where their mouth is about expanding to the US. They're not serious about it and this is all the proof you need.
Pentagon Jr. has made two appearances in AAA: the press conference to announce his TripleMania participation and the taping in Aguascalientes. He did not appear here. It was kind of glaring neither he nor LA Park was there for this conference. I'm sure Penta will be a TripleMania but I wonder how much he'll be participating past that, or if they just needed a fourth person for this day. There are people who genuinely believe Penta is losing his mask and going to WWE, and those people are very silly.
There are three title matches on this show. I would bet on all three titles changing hands, even the Cruiserweight title where we don't even know who's in it. I do not expect surprises in the apuesta matches.