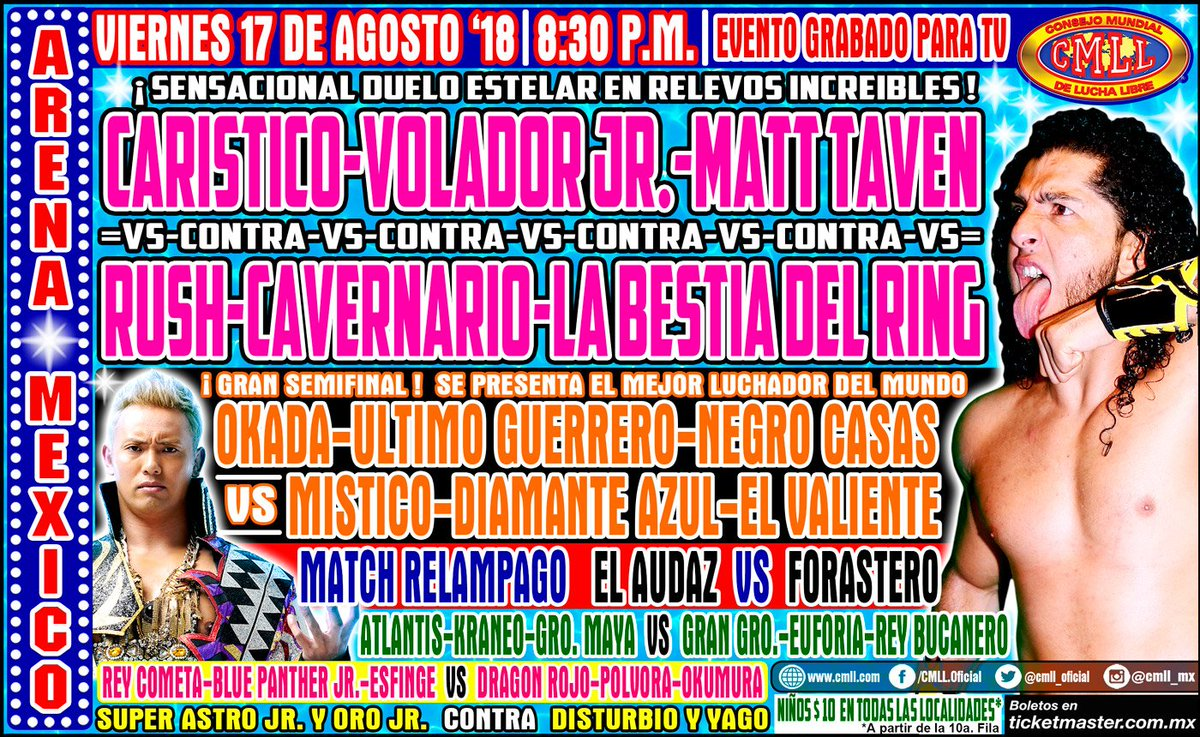 IWRG (THU) 08/16/2018 Arena Naucalpan [+LuchaTV, Estrellas del Ring, The Gladiatores]
1) Death Metal & Lunatic Xtreme b Mexica & Toto
Toto replaced Mexica.
2) Diablo Jr. & Dragón Bane b Black Dragón & Zatura
money thrown in
3) Diva Salvaje, Pasion Cristal, Soy Raymunda DQ El Hijo del Diablo, Hantar, Kronoz
Fantasma de la Opera ran in to attack Pasion Cristal, giving the exoticos the win.
4) Ciclón Ramírez, Emperador Azteca, Relámpago b Alas de Acero, Freelance, Hijo del Alebrije
money thrown in
5) Hechicero, Imposible, Último Gladiador b Aramis, Dr. Cerebro, Xtreme Tiger
Hechicero beat Xtreme Tiger with a mask pull, teasing a singles match.
6) Rush b Penta 0M, Carístico
Lots of fouls. Caristico pulled Penta's mask but Rush was the one who pinned Penta. Penta challenged Caristico to an IWRG title match (!!) & Caristico wanted a mask match.
Tonight's Arena Mexico show is main evented by a rematch of last week's main event. It's Volador, Matt Taven, and Caristico (as a Rey Fenix replacement) taking on once again La Bestia del Ring, Rush, and Cavernario. Last week's match teased Cavernario/Taven and Volador/Rush. This all started off as a tease for Rush/Terrible vs Volador/Cavernario, only Terrible was hurt before it could happen. Terrible is back in the ring on indie shows but hasn't shown up on any CMLL lineups for next week as of yet. He could appear here.
I'm tired of speculating on what the main event of the Anniversario show is at this point. I think I'm not alone there. I just would like an answer. I'm a little concerned that Rush & Volador feuded two weeks ago, feuded last week, and maybe the singles match that seems to be coming isn't next week, but on 09/14. Rush & Volador could have a great match, but the Anniversario show would be a terrible place for it. Rush versus anyone who is not LA Park is going to get rejected hard. They'd be better off having Caristico & Volador break up once again tonight and do that match rather than put Rush into anything. A cage still seems the most likely of ideas because it's the easiest idea.
Ultimo Guerrero, Negro Casas, and Okada take on Diamante Azul, Valiente, and Mistico in the semimain. That should be fine. Audaz and Forastero have a very interesting lightning match. Forastero hasn't had a televised singles match in a year (a very good one with Rey Cometa). Audaz is Audaz. With the extra international attention, this show will get, they could go bonkers in this match to make a name for themselves.
The rest of the card is just matches to have matches, though some could turn out good. Old partners Atlantis & Guerrero Maya team up with Kraneo to face Euforia, Gran Guerrero, and Rey Bucanero. Revolucionarios Dragon Rojo & Polvora team up with Okumura (on every show despite having a wrapped midsection) to fight Esfinge, Rey Cometa, and Blue Panther Jr. Whatever happened to the Revolucionarios finding a third member? Did Templario just say no and they stopped looking? My favorite serial killer Yago will probably engage in some silliness with Disturbio as they wrestle Super Astro & Oro.
Lucha Central has a preview of the show.
The show will air at 8:30pm CT on Marca and Facebook. I am slightly concerned about my ability to stream the show on YouTube but I'll probably figure something out.
A non-match thing to watch tonight: if CMLL wants to slide the Universal tournament in before the Anniversario show, it must begin next week. (That'd be blocks on 08/24 & 08/31, final on 09/07.) The 'next Friday' ad usually plays after the fourth match and will mention the tournament if it's happening. If it's not, it may be starting the week after the Anniversario instead.
The local Ford dealership posted a highlight video of this week's Arena Puebla show.
Disturbio revealed he named himself after the band.
AAA tapes tomorrow night in Valle de Chalco, Mexico State. That's about an hour south-east of Mexico City. The show is listed at 6:00 pm, which typically means a 6:30pm first match on Twitch.
The full card is here. Fantasma & Psycho take on Wagner & Park, which will either be changed or end up with everyone beating up Psycho Clown. Aerostar, Drago & Pagano take on the OGTs in a match which doesn't fit the current situation of the OGTs being tecnicos. Maximo finally fills out the exoticos trio in a match against Rey Escorpion, Texano, and Hijo de LA Park. Jack Evans & Puma King were partners last time we saw them both, and now are opponents in an almost Elite vs Elite match. Lady Shani & Faby Apache meet one last time before TripleMania, with Arez & Vikingo as partners – that should be pretty good. So should the four way opener, with Black Danger, Ultimo Maldito, Arkangel Divino and Angelikal. This looks like an inconsequential taping, but AAA has the talent to make for exciting shows even when nothing much is actually happening.
(I'm mentioning this all now because there probably won't be a news update tomorrow and I'm not sure if it'll be around on Twitter.)
TripleMania, happening a week from tomorrow, is up to five (5) matches
Psycho Clown vs Hijo del Fantasma vs LA Park vs Pentagon Jr. in a four-way mask match
Lady Shani vs Faby Apache in a mask versus hair match
Jeff Jarrett (c) vs Brian Cage vs Rich Swann vs Fenix for the AAA Heavyweight Championship
Pagano, Joe Lider, Murder Clown vs Texano Jr., La Mascara, Rey Escorpion in a street fight
Averno, Super Fly, Chessman vs Jack Evans, Teddy Hart, Juventud Guerrera in a lumberjack match
They announced the Texano match on last night's Sin Mascara stream. Eventually. Texano was on the stream talking to fans with the lure of his match being announced. About a half hour in, they got to the match, with someone reading it to him off-screen. Helpfully, they also put a graphic for the match. Less helpfully, it was a graphic for the OGT vs Elite match, not the one they were actually announcing last night. Texano was confused, as was everyone else. AAA's only acknowledged the Texano match so far.
Sometime between early this week, when AAA 100% did not have a TripleMania card (I believe), and yesterday, when AAA suddenly started announcing matches, AAA figured out what matches they were running on their biggest show of the year. A round of applause for everyone involved. Expect more matches to trickle out.
Not a big round of applause those because these aren't great matches for the biggest show of the year. if the idea of adding Cage & Swann to the title match was to make it actually good, that idea would've been nice to continue in the trios matches. Pagano/Lider/Clown was explained to be a trio going forward, which is not great. It seems a waste of Texano & Rey Escorpion to be in there with them and makes all the time spent on Mascara & Maximo's split a bit of a waste if they're not facing off in some fashion at TripleMania. It's just the same sort of random trios match on a normal TV show (or a CMLL show.) OGT versus Elite at least has some story behind it, but the story sure seemed to involve people like Vampiro & Konnan, who are surely not going to be standing outside as lumberjack goofs. Lumberjack rules in AAA are one of many stipulation types which actively make their matches worse but serve a purpose here to squeeze a few more people onto the card who aren't getting a match.
The TV/streaming picture for TripleMania is also slowly being announced. Just like every other AAA TV taping, you'll be able to see the show live on AAA's Twitch channel and on VOD if you subscribe. (It's TripleMania, so there will also be a thousand bootleg versions after the fact.) For normal people, Leo Riano's Record column announced Televisa Canal 5 will air the show starting at 11:00pm. That's about 3 hours after the listed start time, so they'll only get the top matches, and maybe just the four-way mask match if it's scheduled to go long. Televisa Canal 5 aired Psycho/Wagner (on a couple minute delay) to huge ratings last year, though it had the advantage of following the massive Mayweather/McGregor fight.
Space (Mexico) will also be airing the show live, but it's unclear if they're airing the full Twitch broadcast or picking up later like Televisa. An English version of the Twitch stream is still expected to happen, but there's been no official word about it so far. They might not talk about until Tuesday.
The teased on 08/31 show with Arena Naucalpan and Lucha Memes looks like it includes at least 9 promotions, forming a super alliance promotion called PALL. Promotions tend not to get along for long periods of time. After the havoc that was that 08/04 weekend with promotions running against each other in crazy fashion, promoters getting along would be a nice change of pace. I'd assume a lineup comes out soon because that date isn't far away.
Progress Wrestling announced Mexablood (Flamita & Bandido) will defend their tag team championship on their 09/30 show. That's a big arena show in London, which means Bandido is amazingly working two big indie arena shows in the same month.
Puma King & Barby's weekly video came out on Thursday this week. They have a good reason to be late: they've moved to San Diego. That's something they probably couldn't have done had Puma stayed in CMLL.
Circo, Maroma y Máscara, a 17 minute documentary about lucha libre with filming at Arena el Jaguar in Monterrey, will be shown at the Monterrey Film Festival a couple times this week.
LuchaWorld has the latest Lucha Report.
Segunda Caida talks about some June 2018.
+LuchaTV has a new edition of Aqui Esta La Lucha.
Lineups
CMLL (TUE) 08/21/2018 Arena México
1) Bengala & Leono vs Apocalipsis & Príncipe Odín Jr.
2) Astral, Eléctrico, Star Jr. vs Espanto Jr., Hijo del Signo, Metálico
3) Amapola vs La Jarochita [lightning]
4) Guerrero Maya Jr., Rey Cometa, Stuka Jr. vs Dragón Rojo Jr., Okumura, Pólvora
5) Blue Panther, Titán, Valiente vs Ephesto, Luciferno, Mephisto
6) Atlantis, Mistico, Soberano Jr. vs Cuatrero, Forastero, Sansón
Mephisto & Titan are matched up again, so that's probably an actual feud. Amapola/Jarochita doesn't seem like it's going to be good but is the sort of chance Jarochita needs to get if she's going to develop.
A running argument (between me and people who have common sense) is if Electrico will be in this year's Universal tournament. I believe in Electrico will be in it. Most people do not. Electrico is the most recent national lightweight champion. JCR brings up the title in commentary but the belt has not been seen and he has not defended it since graduating to the 'main' division. With Marco out, CMLL needs Electrico to get to 16 – but they also bring in a champion from elsewhere and count them, like they've done in the past. It doesn't feel like Electrico really got a promotion to the main division if he still gets treated like someone who's not important – but he's been facing the dregs of Metalico, Signo and Espanto all year, so he clearly hasn't been that important so far.
CMLL (TUE) 08/21/2018 Arena Coliseo Guadalajara
1) Neutrón, Star Black, Vaquero Jr. vs Carlo Roggi, Gran Kenut, Ráfaga
2) Lluvia, Mistique, Princesa Sugehit vs Dalys, Reyna Isis, Tiffany
3) Ángel de Oro, Diamante Azul, Niebla Roja vs Felino, Mr. Niebla, Shocker
4) Flyer, Matt Taven, Volador Jr. vs Cavernario, La Bestia Del Ring, Rush
5) Último Guerrero © vs Carístico [NWA MIDDLE]
16th defense
Caristico winning this title is another route CMLL could use to bump out Electrico form the Universal tournament. Ultimo Guerrero would still be a world trios champion and be in the tournament. Ultimo Guerrero just doesn't lose singles title matches often. 16 title defenses is only the third best he's had with a title. (32 with the light heavyweight title, 20 with the heavyweight.)
Matt Taven is still around. Maybe he's working thru Friday because CMLL's planning Cavernario/Taven or the tag title match next week, but he's gone before Sunday? Maybe Taven is just in Mexico forever.