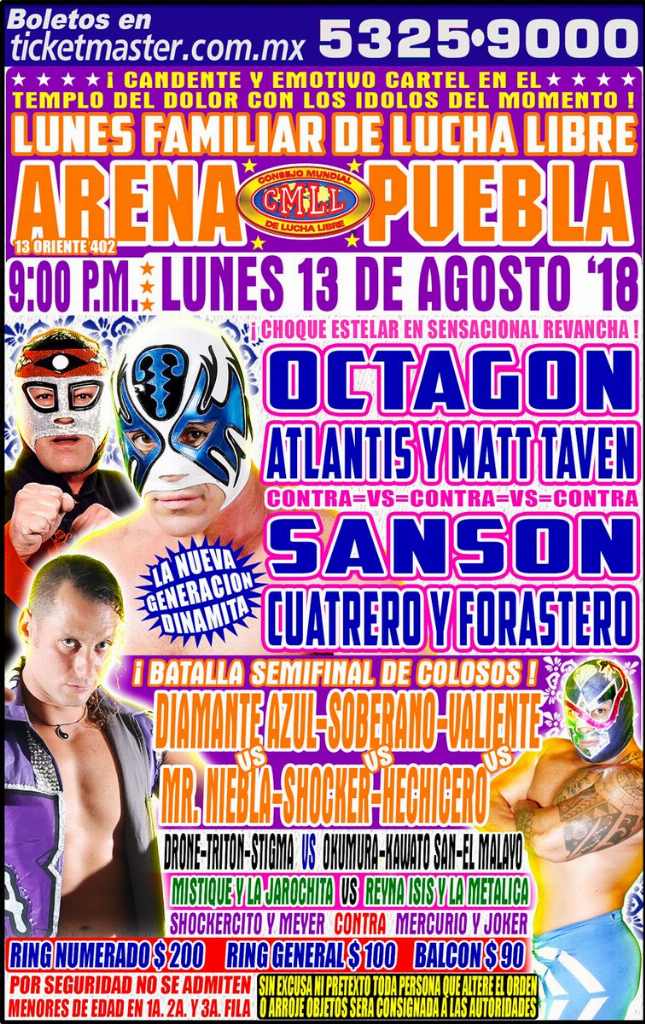 IWRG (SUN) 08/12/2018 Arena Naucalpan [+LuchaTV, The Gladiatores]
1) Holocausto b Shalom
Shalom replaced Chicanito
2) Death Metal & Picudo Jr. b Kanon & Shadow Boy
Kanon replaced Mexica. Picudo Jr. dedicated the win to Picudo.
3) Lolita, Pasion Cristal, Relámpago b Diablo Jr., Diosa Atenea, Dragón Bane
4) Emperador Azteca, Hijo del Alebrije, Multifacetico II b Hijo de Pirata Morgan, Súper Mega, Warrior Jr.
Warrior Jr. replaced Super Mega
5) Dr. Cerebro b Trauma II [IWRG IC MIDDLE]
2nd defense
6) El Mesías, Hijo De Dos Caras, Imposible b El Hijo del Medico Asesino, Ovett, Trauma I
Ovett replaced Mr. Electro. Mesias beat Trauma in the first, Medico & Ovett won the second fall, and Mesias got the three count on Trauma I in the third fall, but Trauma had gotten his shoulder up before that three count. Trauma I appealed for a fourth fall. The commission said OK, and Mesias said OK only if it was just him and Trauma I. Trauma I agreed and won, though his feet may have been in the ropes. Challenges followed.
IWRG's been teasing a Mesias/Trauma I match since Mesias' last appearance here, so it's strange they would just sort of do it unbilled. It is IWRG.
Holocausto is luchador from Hidalgo who's appeared on IWRG before. You can see his last appearance; he's the guy in the non-descript black gear. (Death Metal is the guy who catches your eye in that match.) Shalom is a Freelance trainee who's appeared in the last two FILL/Copa Higher Power cibernetico. It's possible he was just the guy around Chicancito wasn't around and IWRG didn't even think about it the connotation of their match when they sent it to the ring. It's an opener, so it's not like IWRG drew any attention from having a Jewish-themed wrestler losing to the actual holocaust, but it's also an IWRG opener so they could've done whatever result they wanted to do at no cost and that was the one they decided to go with.
My general sense is people in Mexican wrestling just see things like this as signifying nothing, not to be taken seriously and not to draw any meaning from it. There's a definitely a cultural thing at play – look at the reactions to +LuchaTV posting about it on Twitter (which tend to be from outside of Mexico) and then non-reaction to the same on Facebook. It's a lesson not to read too deeply into lucha libre, because the people responsible (and many of the people covering it) are not even thinking about it too much on a surface level. And all that said, it's still flagrantly dumb and there's plenty of smart people around IWRG who should've pointed out how it crossed way over the bad taste and done something about it.
Tonight's Puebla show is a typical Puebla show, in that it's not super interesting. The main event has a rematch of NGD versus Atlantis, Octagon and Matt Taven. It follows up on Sanson unmasking Atlantis last week. They're possibly setting up to a singles match. This is a rare week where the opener is about as important: Joker pinned Shockercito last week and indicated he wanted a title match, and they meet again this week with Meyer and Mercurio.
Diamante Azul, Soberano, and Valiente take on Hechicero, Mr. Niebla, and Shocker in the semi-main. The tercera has Drone, Stigma, and Triton taking on Malayo, Kawato, and Okumura, which seems like the best chance for a good match on this show. It is typically CMLL weird that Kawato & Star Jr. were working well with each and then stopped getting booked together. La Jarochita & Mistique face Metalica & Reina Isis meet in the women's match, and perhaps the feud from Friday carries over here. The show airs on 9pm on CMLL Monday.
Fenix (King Phoenix) is off Friday's Arena Mexico show. He had suggested in post match interviews he wouldn't be on the show – busy somewhere else, I'd guess – so it was a bit of surprise when he was listed. And a mistake, though it'll be interesting how it's handled going forward. Caristico gets moved up to the main event replace him, Diamante Azul is moved up to the semimain (which might mean a lot of ring time with Okada), Guerrero Maya moved up to Azul's place in the third, and Esfinge is added onto the show in the second. Esfinge and King Phoenix, just about the same! You can see the corrected lineup here.
Valiente & Titan were wrestling in Costa Rica this weekend. While at the show, they helped announce four Costa Rican wrestlers would be coming to CMLL. Sonya, Kaiser, Escualo, Ares are said to be wrestling in Arena Puebla, Arena Coliseo Guadalajara, and Arena Mexico the week of September 24. A subsequent post says luchadora Sonya will be wrestling in Arena Mexico on September 25th. I don't know this Facebook site, but it appears legitimate. There's been more "guest" wrestlers in CMLL in the last year than before, with both the Pantera Blanca family and Dick Riviere coming to mind.
NJPW World will air the August 5 CMLL show on August 22nd. That's the show with Christopher Daniels appearance (and also Drone/Kawato.) NJPW World is also listing a CMLL show on 08/29. I'm sure Okada's appearance will air on NJPW World at some point, so it'd make since to be the 08/29 show.
Azteca's Extalon show, including Dragon Lee, begins tonight. It airs on Azteca Uno in Mexico at 7:30pm. This is a three-hour show that airs every weekday. I can not imagine watching three hours of a reality show, I could barely make it thru the 90 minute show the AAA people were on.
MLW announced Pentagon Jr. vs LA Park on 09/06, in a Mexican Massacre match. That's part of their TV taping though I'm not sure if it's airing (they mention the show will also have a TV taping, so maybe that's meant to be separate.) The singles match has not happened in Mexico yet.
Lineup
CMLL (SAT) 08/18/2018 Arena Coliseo
1) Angelito & Último Dragóncito vs Pequeño Universo 2000 & Pequeño Violencia
2) La Guerrera, La Vaquerita, Mistique vs Metálica, Reyna Isis, Tiffany
3) Robin vs Cancerbero [lightning]
4) Drone, Fuego, Star Jr. vs Misterioso Jr., Sagrado, Virus
5) Kráneo, Rey Cometa, Valiente vs Ephesto, Forastero, Mephisto
6) Diamante Azul, Matt Taven, Volador Jr. vs La Bestia Del Ring, Mr. Niebla, Shocker
Nothing special here. Maybe they're setting up another Diamante/Bestia classic. Raziel is still missing.