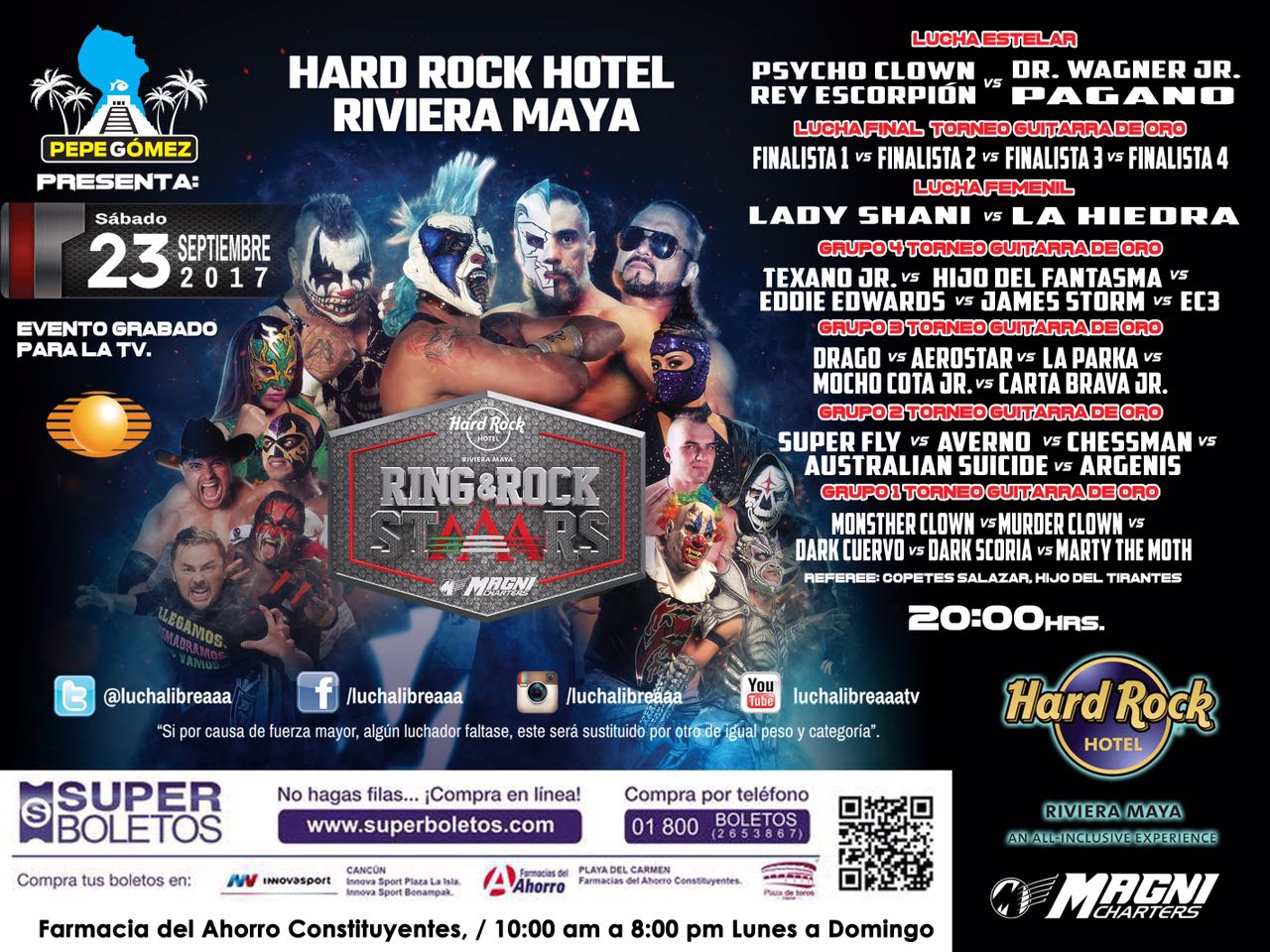 AAA has it's annual Ring and Rock Stars TV taping from Hard Rock Riviera Maya tonight. They've decided to air it live on Twitch to raise money for earthquake victims. All the revenue from the show (probably the ads, not sure if they'll have the bit tips set up) will be donated to Save the Children Mexico. The show is scheduled to start at 8pm CT (but it's a TV taping, so probably later than that.) They have it as two hours long but I figure it'll be longer. I am told the plan is for the event to stream both on AAA's main channel and English language channel, and there's an effort to find some English language announcers to call the show for that feed. (I do not know who they will be and it may not happen since this is all coming together last minute.)
This is the announced card, though it's an AAA TV taping so things can/will change:
AAA TV (SAT) 09/23/2017 Hard Rock Hotel Riviera Maya, Playa del Carmen, Quintana Roo
1) Monsther Clown vs Murder Clown, Dark Cuervo, Dark Scoria, Marty The Moth [Guitarra de Oro, semifinal]
2) Súper Fly vs Averno, Chessman, Australian Suicide, Argenis [Guitarra de Oro, semifinal]
3) Drago vs Aerostar, La Parka, Mocho Cota Jr., Carta Brava Jr. [Guitarra de Oro, semifinal]
4) Texano Jr. vs Hijo del Fantasma, Eddie Edwards, James Storm, EC3 [Guitarra de Oro, semifinal]
5) Lady Shani vs La Hiedra
6) Winner Of Match 1 vs Winner Of Match 2, Winner Of Match 3, Winner Of Match 4
7) Psycho Clown & Rey Escorpión vs Dr. Wagner Jr. & Pagano
Those first four matches are to set up a match for a Gold Guitar as the semifinal match, the first time AAA's used that particular trophy.
I'd like to help out too, and have fun watching this show. Let's play a game today: for every dive on tonight's AAA TV Twitch show, I'll also donate $5 to Save the Children. If Australian Suicide does something with three spins to the floor, that's $5. If Hiedra does a simple plancha off the top rope all the way onto Shani outside the ring, that's 5. If La Parka walks two steps to the ropes and does a tope thru, still $5. If Wagner does his forward roll off the apron, it's for charity, so that's definitely $5. The only rule is we actually have to be able to see the dive on the stream to add it to the count. If I can't tell if it happened, then I can't count it out.
If you want to play along, I'll try to count out the dives as they happen tonight, and maybe we can all donate money when it's over.
There were two more aftershock earthquakes this morning in Mexico, including a 6.2 earthquake in Oaxaca where the first earthquake earlier in September was centered.
CMLL will continue to accept donations this Saturday and Sunday. Arena Puebla's show for this week was officially canceled yesterday. There won't be any word about when CMLL will resume until at least Monday.
Caristico tells a story about he and his brother Argos being trapped after the 1985 earthquake, and helping out thru this one. Zeuxis, an ambulance medic in her other life, is apparently volunteering for the Red Cross right now.
Kojima's headed back to Japan today.
A 10/01 show in Los Angeles with Blue Demon, Tinieblas Jr. will be donating some proceeds from the show to earthquake relief. The article says they're hoping for 10,000 people to turn out. I hope they're not planning on that number, which seems like it'd be twice the amount of people who've attended any non-WWE show this year.
Lucha Underground posted a Killshot video to set up Hell of War next week. The key information is the stipulations to each fall are first blood, no DQ, and "medical evacuation" (a stretcher match). The thing I actually took away from it is Killshot, in trying to tough talk, comes off as the rudo in the feud.
RIOT announced their next show will be on 11/04.
Iron Kid says he, Resplandor Jr., Astro and Picudo are going to Macao, China for six months to wrestle for a group there.  (Via R de Rudo) This appears to be former WWE trainee Hoho Lun's new promotion, which also mentions Rocky Lobo & Pesadilla heading in at some point. Lun was a guest at a Gimnasio Arena Coliseo show earlier this year, so this actually makes sense somehow. It looks like they're doing nightly or nearly nightly shows as a casino attraction, so it's plausible this may actually work out.
LuchaWorld has the latest Lucha Report.
Lineups
Multi (SAT) 09/23/2017 Polideportivo del Sur, Puebla, Puebla
1) Amazona & Lillith vs Luna Wampi & Rockerita
2) Dienes De Sable, Duendo Loco, Hijo De King Rocker, Ikaros, Sombra Guerrera vs Ángel Boy, Ángelus, Lobo De Plata, Lobo Negro, Sombra Azteca
3) Eros vs Magic Jr., Bombon Asesino, Amnesia, Nocturno, Sexy Alexander, Cobra Dorada, Tigre Soberbio, Águila Guerrera, Tigre Fly
4) París vs Guerrero de Plata, Bracito Metrosexual, Vega, Oficial Fierro, Mini Demond Rock, Payaso Remy, Guerrero Espaical [Torneo Rey Celestial]
5) Karisma & Rey Samuray vs Rey Infierno & Siki Ozama Jr. and Ares el Guerrero & Loco Max
6) Crazy Black vs King Rocker Jr., Tiger Boy, Lince, Payasoi Retro, Fantasmín, Rayder Boy, Venum, Yeygo, Avaricia, Tony Iron, Legionario Jr., Altis, Pequeño Joker [Copa Rey de Tornillo]
Rey Celestial tribute show today. Lots of multi person matches because so many people want to be on it.
The Crash (THU) 10/05/2017 Auditorio de Tijuana, Tijuana, Baja California
1) Black Boy & Black Danger vs Dave Crist & Jack Crist
2) Christi Jaynes & Keyra vs Baronessa & Diosa Quetzal
3) Trevor Lee © vs Daga vs Último Ninja [IMPACT X]
4) Arkángel Divino, Laredo Kid, Máscarita Dorada vs Demus 3:16, Mr. 450, Último Maldito
5) Jack Evans, M-ximo, Willie Mack vs Bestia 666, Black Taurus (Indie), Garza Jr.
6) The King vs Flamita
7) Brian Cage, Penta 0M, Rey Mysterio 619 vs La Máscara, Pierroth, Rush
This is the earthquake relief show they're doing (and two days earlier than the original Saturday date.) Rey Fenix (the King) and Flamita just had a super match in San Luis Potosi and bring it back here for the rematch. I'd suspect the Daga/Trevor Lee/Ultimo Ninja match is being done to air on Impact in some form, but I'm not sure. Daga quit AAA, and he'd be the first guy who quit AAA and still is under LU contract to be allowed to appear on someone else's TV.