Preview of tonight's Arena Mexico show: Ovaciones. The show is all on Rey vs Epehsto for the CMLL LH title. As noted earlier, Ephesto has never won a singles title in CMLL. (He did win the very short lived Middleweight title in Promo Azteca back when he was Pantera del Ring.) This may be the only second chance he's had at one; I don't see another challenge besides the really good match versus Sombra last Decemeber for the NWA Welterweight Title. Rey has held has championship for 34.5 months with 15 known defenses, but hasn't defended in Mexico City since last October. The level of the belt has dropped during Rey's reign, but some of that is because previous champion Ultimo Guerrero was pushed as the best wrestler in the company when he had the championship (and after), while Rey's just been yet another guy holding a belt.
CMLL (SUN) 05/24 Arena Coliseo Guadalajara [Fuego en El Ring]
1) Angel del Mal & Relampago Azul b Hierro & Skaxy
2) Drago & Rafaga b Metatron & Palacio Negro
3) Leon Blanco & Magnum b Asesino Negro & Infierno
4) Neutron, Stuka Jr., Virgo b Mr. Trueno, Vangelis, Virus
5) Black Warrior, Terrible, Texano Jr. b Blue Panther, Mascara Dorada, Sagrado
6) Felino, Mr. Niebla, Negro Casas b Hector Garza, Mistico, Shocker
Covered the top 2 matches when MedioTempo wrote about this show, but there are a couple underneath things worth noting. Neutron and Mr. Trueno are apparently building towards a title match. I have zero idea what belt they're supposed to be feuding over; Neutron's the champ in the feud. Also, the opening match guy named "Drago" is the same guy who's sometimes listed as "Dragon"; I don't think we're sure what we're supposed to be close by.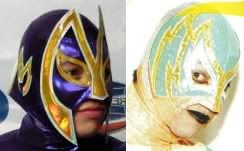 There's a post on Box Y Lucha's forum saying Sunday's debuting Guerrero Maya Jr. is better known as IWRG's Multifacetico. Multifacetico last turned up in IWRG just before the flu cancellations, but seemed downplayed the last couple months. Photo is to the right, you can make the call.
The story CMLL's telling is Guerrero Maya retired to Merida after his five years of wrestling in CMLL, pursing other careers, but now his son is taking the name. Guerrero Maya Sr. never lost his mask. In reality, this would seem to indicate Multifacetico is one of Black Terry's sons (though not BlackTerryJr), which gives a different spin on all that feud between Black Terry and Multifacetico.
Averno is looking forward to facing Blue Panther, but is not afraid of him. Averno points out Panther knows how good he is, because Panther picked him to wrestle in his 25th anniversary match. Averno says he's not giving Mistico another shot at his belts, because Mistico had his chance and lost. All Mistico is getting a mask or a hair match.
In Box Y Lucha (via DJ Spectro) has Principe Valiente talking about his debut.
Universo 2000 has opened his own gym. Universo doesn't look much like Universo in the pictures.
(via SuperLuchas) Northern California indy Pro Wrestling Revolution is bringing Mephisto and Shocker in, sometime this summer.
Ras de Lona has everyone visiting a torture exhibit. Almost no sight of anything from Thursday's press conference (only Mima's centerfold discussion – and that might have been from a previous press conference), though they did have interviews from backstage on Friday.
LuchaWorld has KrisZ's news update, including hugo999's Puebla results I can never seem to find anymore. Go click on the link and check them out.
CMLL (WED) 05/27 Arena Coliseo Acapulco [eventos_acapulco @ box y lucha]
1) Mr. Niebla, Negro Casas, Rey Bucanero vs Ephesto, Terrible, Texano Jr.
2) La Sombra vs Mephisto [NWA WELTER]
3) Hector Garza, Mistico, Shocker vs Atlantis, Dos Caras Jr., Ultimo Guerrero
An actual lineup! There's a women's match we're missing, and a locals one. It'd be nice if we got results for this show but I'm not exactly holding my breath.
EAW (SAT) 06/06 El Pinal, Teziutlan
1) Iron Boy, Luminoso, Skalibur vs American Rebelde, Mike Castillo, the Rocket
2) Scorpio Jr. & Zumbido vs Histeria & Psicosis II
3) El Alebrije, Intocable, La Park vs Monsther, Pirata Morgan, Super Crazy
An actual EAW show, wow. Poster says it's being taped for TV, so it may turn up on TVC Dpeortes at some point. Kinda weird to do a promotion built around having two rings for bigger stunts, when really Super Crazy is the only one in the main event who is going to use it. Park and Pirata are ending up in the crowd, Monsther and Alebrije are doing comedy.