07/31: Puebla, Naucalpan, Guadalajara, Leon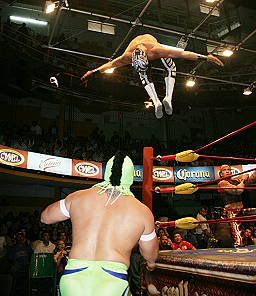 CMLL
CMLL (MON) 07/30 Arena Puebla [hugo999]
1) Ares & Toro Bill Jr. b Legionario & the Tiger
2) Blade & Skandalo b Batman & Lestat
3) Flash, Stuka Jr., Super Nova b Euforia, Nosferatu, Virus
4) Damian 666, Halloween, Mr. Aguila b La Sombra, Sagrado, Volador
5) Atlantis, Averno, Ultimo Guerrero b Blue Panther, Negro Casas, Rey Bucanero
6) Mistico b Dr. Wagner Jr.
Reverse of Friday's match – Ultimo interfered again, but this time attacking Mistico while the ref and Wagner were distracted, so Wagner got the free pin. Correction: Wagner got laid out by Ultimo, much like Friday. Ultimo and Atlantis celebrated being evil, and Negro and Rey ran them off post match.
I think Ultimo screwing over Wagner really should've been the finish on Friday, but maybe they'll make it work in the long run.
IWRG (SUN) 07/29 Arena Naucalpan [IWRG]
1) Samba b Comando Gama
2) Macho II & Puma King b Golem & Tortugillo Ninja
3) Halcon Salvaje, Kid Tiger, Star Boy DQ Capitan Muerte, Cyborg, Xibalva
4) Black Terry, Hijo de Mascara Ano 2000, Mascara Ano 2000 Jr. b Marco Rivera, Tony Rivera, Veneno
5) Alex Koslov, Cerebro Negro, Negro Navarro, Ultraman Jr. b Hijo del Cien Caras, Kai, Misterioso II, Yamato
Cerebro Negro pinned Yamato, which is setting up something for next week. In the tercera, the rudos would not stop beating on Halcon Salvaje, so the DQ. Halcon and Cyborg are headed to a hair match.
IWRG (SUN) 08/05 Arena Naucalpan
1) Tortuguillo Ninja vs Comando Gama
2) Halcon Salvaje & Samba vs Macho II & Rockero del Diablo
3) Centauro, Freelance, Kid Tiger vs Captian Muerte, Hijo del Diablo, Xibalba
4) Alex Koslov, Negro Navarro, Ultraman Jr. vs Black Terry, Mascara Ano 2000 Jr., Nitro
5) Yamato vs Cerebro Negro [Rey del Ring]
Yes, apparently you can defend the Rey del Ring title this year. IWRG really needed another belt to be defended.
CMLL (SUN) 07/29 Arena Coliseo Guadalajara [Mayu]
3) Infierno, Malefico, Rey Lobo b Leon Blanco, Magnum, Metal Blanco
4) Cien Caras Jr., Máscara Año 2000, Universo 2000 b Máximo, Rayman, Vampiro
5) Lizmark Jr., Terrible, Texano Jr. b Dos Caras Jr., Rey Bucanero, Volador Jr.
Metal Blanco may have got hurt in his match; it was a quick finish.
CMLL (SUN) 07/29 Gimnasio Nuevo Leon [RFC]
1) Coco Viper, Memo Valles, Tacua b Gitano, La Sombra, Silver Star
2) Bengali, Cats, Raiden b Mongol Chino Jr., Rey Hechicero, Tigre Univeristario
3) Dr. Wagner Jr. & Silver King b Hector Garza & Ultimo Guerrero
CMLL (SUN) 08/05 Gimnasio Nuevo Leon [RFC]
1) Mongol Chino Jr., Rey Hechicero, Tiger Universitario vs Gitano, La Sombra, Silver Star [captains mask]
2) Ephesto & Ultimo Guerrero vs Felino & Negro Casas
LUM (SAT) 08/04 Parque Tolteca [GABRIEL MARTINEZ O @ LMDLL]
1) Venum & Vudu vs Dranser & Scravos
2) Bengali, Cats, Raiden vs Chica de Arabia, el Tacua, Orquidea Negra
3) Difunto I, Difunto II, Hijo del Espanto vs Apolo Estrada Jr., Aventurero, Estrella Dorada Jr.
4) Gato Volador, Principe Franky, Tigre Universitario vs Monje Negro Jr., Sergio Romo Jr., Silver Star
5) Pirata Morgan vs Potro Jr. [hair]
I think you can go edit that one into the wiki.
AULL (FRI) 08/03 Arena Lopez Mateos [Brina
1) La Rebelde & Yezka vs Diosa Maya & Princesa Zareth
2) Luna Magica, Princesa Blanca, Sahori vs La Briosa, La Nazi, Rosa Negra
3) Lady Apache vs Marcela vs Hiroka
4) Dark Angel vs Amapola vs Mima Shimoda vs India Sioux
Four ways and three ways for absolutely no reason! This is indy.
Perro Aguayo Jr. is interviewed in Ovaciones, complaining about Wagner stealing his groups gig of being neither tecnico or nor rudo. He expects to be the center of the promotion upon his return and to get Mistico's match shortly.
AAA hypes the 08/03 taping as the return of the Intocable.
SuperLuchas #223 has Wagner humiliating Mistico.
The magazine FAMA has a special lucha libre issue.