Previous: 07/06 (Puebla), 07/15 (TripleMania), 07/16 (Leon)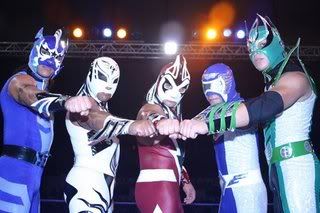 AAA TV (FRI) 07/27 Centro de Convenciones de Ciudad Madero [aaa photo blogger]
1) Cinthia Moreno, Octagoncito, Oriental, Pimpinela Escarlata b Alfa, Fabi Apache, Gran Apache, Mini Histeria
2) Extreme Tiger b Laredo Kid, Aero Star, Super Fly, Escoria, Hombre Sin Miedo, Rey Cometa, Pegasso [Torneo Alas de Oro]
3) Alan Stone, Scorpio Jr., Super Calo, Zumbido b Alberije, Brazo de Plata, El Elegido, Zorro
4) Crazy Boy, Joe Lider, Juventud Guerrera b Head Hunter I, Scoria, Shryu Dragon, X-Pac
5) Kenzo Suzuki, Mesias, Ozz b Charly Manson, Chessman, Cibernetico [cage]
Air Date (assuming everything airs)
Mex: 08/12
US: 09/01
The recap doesn't exactly list results, but you can put it together based on the pictures.
Legion won the main event cage match with some outside help from X-Pac. Chessman took a big move off a ladder thru a table. Hell Brothers had a valet, but I'm kinda expecting it to be a one time deal.
No Ron Killings in the semimain. I'm not sure that Head Hunter I and Scoria were both supposed to be in the match replacing him, but it effectively worked out that way. Extreme Tiger ran into help his side, and it was very much your usual Mexican Powers match. Shryu Dragon is another indy hardcore wrestler – he fits the Sabu tease without actually costing Sabu money. It looks like Crazy Boy got hurt by the end of this match, and Joe Lider really should be as well. After multiple tables being broken and Extreme Tiger coming off a balcony with a dive, the finish was X-Pac trying to Tombstone Juvy, and Extreme Tiger knocking Juvy on top with a dropkick. Makes you wonder what the point of everything else was.
Super Calo appears to still be wrestling under that name, but as a member of the Guapos. This match was the usual between these sides, and I think Calo picked up the win with a guillotine legdrop (and some help from Alan.) Zorro's been eating a lot of pins for a guy who seemed to be their new top star.
Tons of dives in the Alas de Oro tournament; that should be interesting to see. Extreme Tiger beat Super Fly to take it.
Oriental won the opener by giving Alfa a German suplex, a reverse of the TripleMania finish and an indication that this will be ongoing. Figure a title match at one of the next two tapings.
Announced Future Tapings
– 08/03 Auditorio Jose Maria Artega de Queretaro
– 08/16 Gimnasio Agustin Millan de Toluca