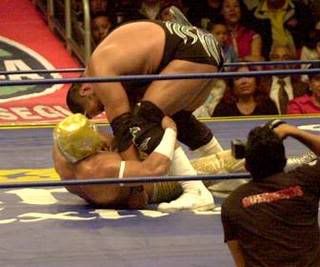 ESTO
Big main event in Arena Mexico tonight:
CMLL (FRI) 07/27 Arena Mexico
1) Astro Boy & Sombra de Plata vs Calígula & Méssala
2) Leono, Stuka Jr., Super Nova vs Hirooki Goto, Misterioso II, Shigeo Okumura
3) La Sombra, Mascara Purpura, Valiente vs Averno, Ephesto, Mephisto
4) Negro Casas, Rey Bucanero, Sagrado vs Damian 666, Texano Jr., Villano V
5) Blue Panther, Dos Caras Jr., Marco Corelone vs Hector Garza, Mr. Aguila, Terrible
6) Mistico vs Dr. Wagner Jr.
I finally get this feud, now that CMLL's preview has taken me by the hand and walked me thru it.
Up till, say, three weeks ago, Dr. Wagner Jr. was confident he was The Best Wrestler In The World. Mistico had some big matches, Mistico won some titles, Mistico won some belts, but Dr. Wagner Jr. just thought he was a good kid who won a lot. (And his belt is bigger and shinier.) Wagner & Mistico made a good team when they teamed, but Wagner knew for sure that if they ever faced, he could swat the kid down, because he's The Best Wrestler In The World.
Then, Mistico (& la Sombra) beat Wagner (& Purpura) and Wagner's perspective on the world was shattered. It's no wonder he joined the rudos, he had to join the rudos to face Mistico and he had to face Mistico to beat him. Wagner wasn't looking to be a rudo full time, he was just looking for a way to prove he's the best. He got the win in the the trios match, and then he grabbed a partner and beat Mistico in a tag match. And just because people thought he fouled Mistico, he'd do one more tag title match to unquestionably prove the point. When Mistico stole the win, Wagner was shattered again, and so we've come to this.
If Wagner wins, he can once again claim to be The Best Wrestler In The World (though the matter isn't totally finished, especially if it's not clean.) If Mistico wins, then what? The mask challenge, which probably won't happen, for sure. Would they let Mistico wrestler for a heavyweight title?
Ovaciones has a preview of the show, as does ESTO and NOTIMEX, all focusing on the main event. ESTO says the trio of Averno, Mephisto and Ephesto "is more dangerous than Satan."
There's a thread over on DVDVR discussing the show.
Ovaciones has an article on the Rowdy Tecnico fans.
How long till a rematch?
CMLL (MON) 07/30 Arena Puebla [cmll, hugo999]
1) Legionario & the Tiger vs Ares & Toro Bill
2) Batman & Lestat vs Blade & Skandalo
3) Flash, Stuka Jr., Super Nova vs Euforia, Nosferatu, Virus
4) La Sombra, Sagrado, Volador vs Damian 666, Halloween, Mr. Aguila
5) Blue Panther, Negro Casas, Rey Bucanero vs Atlantis, Averno, Ultimo Guerrero
6) Mistico vs Dr. Wagner Jr.
Meanwhile, AAA's running a TV taping in Tampico.
AAA TV (FRI) 07/27 Centro de Convenciones de Ciudad Madero
1) Cinthia Moreno, Octagoncito, Oriental, Pimpinela Escarlata vs Alfa, Fabi Apache, Gran Apache, Mini Histeria
2) Laredo Kid vs Aero Star, Super Fly, Escoria, Extreme Tiger, Hombre Sin Miedo, Rey Cometa, Pegasso [Torneo Alas de Oro]
3) Crazy Boy, Joe Lider, Juventud Guerrera vs ?, Ron Killings, X-Pac
4) Alberije, Brazo de Plata, El Elegido, Zorro vs Alan Stone, Scorpio Jr., Super Calo, Zumbido
5) Charly Manson, Chessman, Cibernetico vs Kenzo Suzuki, Mesias, Ozz [cage]
El Sol de Tampico has a preview. Dark match opener is listed here Impluso & El Lince vs Disturbio & Arana Maligna. Note the main event is in a cage – I'm going to go out on a limb and guess Chessman will attempt suicide and be fine by the next taping. Show starts at 9 PM local time.
I'm picking Super Fly to continue his winning streak and take the high fliers match.
(ESTO) Monito suffered a nose injury, and underwent surgery on Monday. He's supposed to be out 15 days,
ESTO reports a team of CMLL wrestlers will take on the cast of a night time TV in a TV music contest. The show's called "En Busca de la Nueva Banda", and the CMLL representatives are Fabian el Gitano, Nitro, Felino, India Sioux, Princesa Blanca, and Amapola. This MUST make it on to YouTube. I think this airs on Sunday.
Atlantis is filming a (direct to video) movie called "Atlantis al recate". The movie is about using dolphin therapy for people with psychologically and neurological issues.
Rocky Mountina News interviews Psicosis II about the Warped Tour. SPOILER: They give away his real name in the second paragraph. I may have ruined lucha libre by linking to that.
Thursday was the 65th Anniversary of Santo's debut
CMLL (TUE) 07/24 Arena Coliseo Guadalajara
1) Mafia DQ Impostor
2) Azazel b Quazar
3) Metatron b Exterminador
4) Magnum b Infierno
5) Asesino Negro & Egipcio b Leon Blanco & Lider
6) Virus b Valiente
7) Blue Panther, Dr. Wagner Jr., Vampiro b Cien Caras Jr., Máscara Año 2000, Universo 2000
Universo tried to give Wagner the Black Hammer, but the ref shoved him over, and Wagner cradles him for the win. In the 5th match, Asesino Negro snuck in a foul on Leon Blanco for the win.
CMLL (THU) 07/26 Puerto Jarocho, Veracruz [escualoasesino @ box y lucha]
1) Jaguar b Mercenario Jr.
2) El Gitano & Rey Garifo b Gabriel o Gabriela & Samuray
3) Dr. X & Super Colt b Fabian el Gitano & Tony Rivera
4) La Mascara, Mictlan, Volador Jr. DQ Sangre Azteca, Skandalo, Virus
5) Maximo, Mistico, Rey Bucanero b Averno, Ephesto, Mephisto
Rey filled in for Heavy Metal, Super Colt for La Morgue, El Gitano for Perro Mocho Jr. and the opener was announced as a tag match originally.
CMLL (THU) 07/26 Arena Xalapa [escualo @ el martiente, doogie05 @ Satanico's Mansion]
1) Jaguar & Linterna Verde b Guerrero del Infierno & Soldado Anonimo
2) Gabriel o Gabriela & Samuray b Perro Mocho Jr. & Rey Garfio
3) Dark Angel & Sahori b Hiroka & La Nazi
4) La Sombra, Stuka Jr., Valiente b Dr. X, Nitro, Skandalo
5) Averno & Dr. Wagner Jr. b Mistico & Ultimo Guerrero
AAA (MON) 07/30 Cancha de Futbol Rap, Nuevo Laredo [RFC]
1) Insolito, Maravilla Lopez, Rey Galactico vs Rio Bravo, Tigre Cota, Tito Santana II
2) Brazo, Chiva Rayada I, Extreme Tiger vs Barba Roja, Hijo de Pirata Morgan, Pirata Morgan
3) Asrtuto, Super Calo, Tinieblas Jr. vs Antifaz, El Cobarde, Pirata Morgan
4) Hombre sin Miedo vs the Custom [mask]
I've never heard of the Custom. I have no record of him wrestling before. I can't possibly guess who's going to win here.