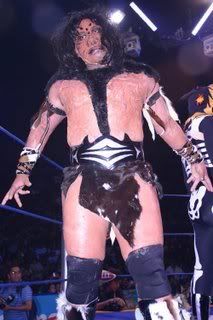 AAA/the Animal
Did we ever get an explanation about "the Animal"? I think because there was confusion over who he was and distraction from trying to figure out the 8 other things that happened from scattered reports, we didn't spend much time discussing this "surprise."
Hyped surprises always take on lives of their own. It's somewhat unfair to the promotion – they didn't say Black Warrior was going to be there, so they shouldn't be blamed when Warrior doesn't show up – but then it's not like this doesn't happen every time and so promotions should be well aware of what they're getting into.
I think the Animal was even a disappointment beyond that. He wasn't bad because he wasn't Warrior, he was bad because he was some random stiff in a wacky outfit, who it seems we'll never again (and I'm fine with that.) What the heck happened there? If it was a last minute replacement, then why did they have the suit? If they were planning The Animal all along, why? It's all so strange.
CMLL says both Perro Aguayo Jr. and Lizmark Jr. will return next Friday. AULL kinda gave this way a week ago by listing both on their card that Saturday.
Noti Triple A says Oriental, Histeria, Antifaz and Laredo Kid will be heading to Japan for NOAH. They start with the promotion on 08/19 (though they'll leave a couple days sooner.) No return date is announced, but I'd presume they'd stick around till the AAA/NOAH show in September.
You can also see photos of Cibernetico assuatling Annoying Wacky Entertainment Reporter at that site. Surely an angle, but I actually prefer to pretend it's real, just for the thought of Cibernetico playing "got your nose!" in the middle of an argument.
indy (SUN) 07/29 Arena Coliseo Monterrey [rfc]
1) Aguila Extrema & Iron Extreme vs Akido & Mercurio
2) Barba Roja & Hijo del Pirata Morgan vs Iron & Ramses [super libre]
3) Chiva Rayada, Latin Boiler, Xtreme Tiger vs Alan, Rey Infernal, Super Calo [bull terrier]
4) Pirata Morgan & Pirata Morgan Jr. vs Hator & Monje Negro Jr. [seconds hair]
5) Intocable & Tinieblas Jr. vs Antifaz & X-Pac
The semimain is fans hair vs Arturo Rivera's hair.