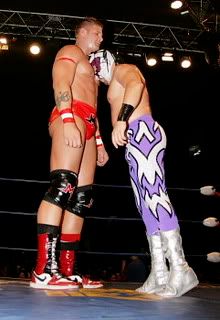 CMLL
CMLL (SUN) 07/22 Arena Coliseo [ova, Alvin @ el Martinete]
1) Astro Boy & Trueno b Jeque & Méssala
2) Lady Apache, Marcela, Sahori b Amapola, Hiroka, La Seductora
3) Nosferatu, Satánico, Virus b Fabián el Gitano, Leono, Tony Rivera
4) Felino, Heavy Metal, La Máscara b Emilio Charles Jr., Hirooki Goto, Shigeo Okumura
5) Alex Koslov, Dos Caras Jr., Dr. Wagner Jr. b Terrible, Villano III, Villano V
6) Rey Bucanero b Atlantis [CMLL LH]
Ovaciones says the title match went near 30 minutes. (So, what, 15 whistle to fall?) Wagner worked as a tecnico.
CMLL (SUN) 07/29 Arena Coliseo
1) Sensei & Trueno vs Jeque & Vaquero
2) Metalico, Super Nova, Tigre Blanco vs Apocalipsis, Dr. X, Ramstein
3) Dark Angel, Diana la Cazadora, Marcela vs Amapola, La Nazi, Princesa Sujei
4) La Mascara, Sombra, Tony Rivera vs Misterioso II, Sangre Azteca, Virus
5) Alex Koslov, Marco Corelone, Negro Casas vs Atlantis, Olimpico, Toscano
Notimex talked to Mistico after Friday's tag title match, who's saying the boos he's getting lately in Arena Mexico don't bother him and in fact, give him the energy to defeat Dr. Wagner. I read a companion interview with Dr. Wagner promising revenge, but I can't find the link.
The clips from Tuesday Coliseo are up @ DeporTV America's site.
AAA (SUN) 07/22 Arena Coliseo Monterrey [RFC]
1) Mercurio b Aguila Extrema
2) Barba Roja, Hijo del Pirata Morgan, Pirata Morgan Jr. b Iron, Ramses (Monterrey), Rey Infernal
3) Alan, Fabi Apache, Mini Histeria b Baby Fox, Billy Boy, Estrellita
4) Octagón, Pirata Morgan, Tinieblas Jr. b Antifaz del Norte, Hator, Monje Negro Jr.
5) Cibernetico & Zorro b Ron Killings & X-Pac
Building was 75% full.
CMLL (SUN) 07/22 Gimnasio Nuevo Leon [RFC]
1) Coco Viper, Memo Vales, Tacua b Bengali, Cats, Raiden
2) Gitano, Silver Star, Sombra b Mongol Chino Jr., Rey Hechicero, Tigre Universitario
3) Sangre Azteca & Ultimo Guerrero b Super Parka & Volador Jr.
Some lineups:
CMLL (SAT) 07/28 Plaza de la Unidad de PRI, Toluca
1) Bengala & Maravilla vs Damian el Inmortal & Destroyer
2) Mini Damian 666 & Mini Halloween vs Tzuki & Ultimo Dragoncito
3) Sombra de Plata vs Flecha [mask, hair]
4) Estruendo, Maximo, Valiente vs Emperador, Texano Jr., Virus
5) Dos Caras Jr., Dr. Wagner Jr., Groon XXX vs Atlantis, Toscano, Ultimo Guerrero
Sombra de Plata dropping the gimmick because of La Sombra? Flecha dropping his hair as he continues his downward spiral into being just another obscure indy guy? I don't know!
AULL (SUN) 07/29 Arena Lopez Mateos
1) Sombera Escarlata vs Demonio Gato
2) Prince Star & Spider Boy vs Mini Rebelde & Pequeno Demonio
3) ?, Hakoon, Star Cat vs Basfemia, Chico del Barrio, Herejia
4) King Star Tiger, Ultimo Vampiro, Yakuza vs Epitafio, Misterio, Psicopata
5) Robin Maravilla, Rocky Santana, Terry 2000 vs Rey Krymen, Sadico, Ultimo Gladiador
CMLL (SUN) 07/29 Arena Coliseo Guadalajara
1) Estrella de Jalisco vs Valentin Mayo
2) Metalik & Quazar vs Depredador & Rey Trueno
3) Leon Blanco, Magnum, Metal Blanco vs Infierno, Malefico, Rey Lobo
4) Maximo, Rayman, Vampiro vs Cien Caras Jr., Mascara Ano 2000, Universo 2000
5) Dos Caras Jr., Rey Bucanero, Volador Jr. vs Hijo de Lizmark, Terrible, Texano Jr.
indy (TUE) 07/31 Arena Coliseo Monterery [RFC]
1) El Burrito vs El Borrico
2) Angel Negro & Rey Cazadora vs Black Sabath & Mr. Secuestro
3) Chacos & Syka vs ? & the Beast
4) Mr. Cuervo vs Corazon Adictor [mask]
5) Casanova, Humberto Garza Jr., Principe Franky vs Dr. Tormenta, Ejecturo, Potro Jr. [FILL TRIOS]
6) Pancho Tequila vs Vudu [FILL HEAVY]
7) Konan Big vs Super Konan, Konan King, Konan Gay [cage, name]
This is the battle to determine the only Konnan. In Arena Coliseo Monterrey. For now.
Magazines
* Super Luchas #222 has recaps of Mistico and Negro regaining the title, and Santo winning Cassandro's hair in FCW.
* Super Luchas Grafico #24 is an TripleMania flip book. They've got more on the NOAH/AAA show in there.
* Box Y Lucha #2828 has Mistico ripping Wagner's mask.