In today's Ovaciones, Hijo de Perro Aguayo announced he'll return to the ring on 08/03. No match is announced, but Perro would enjoy teaming with the Perros against Mistico. That's sure possible.
Speaking of strange people who want to challenge Mistico, the goofy band which was calling him out before, Loco Solitario, announced they want Mistico to have to sing when he loses. Mistico responded by uping the stakes, exactly as he usually does – Mistico will sing and unmask if he loses to the band leader, but if (when) he wins, everyone in the band has to shave their head. Mistico is very anti-hair.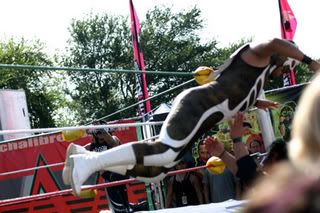 IWRG (SUN) 07/15 Arena Naucalpan [IWRG]
1) Samba & Tortugilo Ninjo b Comando Gama & Golem
2) Cyborg, Fantasma de la Ópera, Xibalba b Ave Fenix, Kid Tiger, Marco Rivera
3) Cerebro Negro, Tony Rivera, Ultraman Jr., Veneno b Black Terry, Dr. Morvus, El Hijo del Diablo, Enfermero Jr.
4) Hijo de Cien Caras & Mascara Ano 2000 Jr. b Electroshock & Hijo de Anibal [IWRG IC TAG]
Fantasma de la Opera ran in the tercera to attack Black Terry, which helped the tecnicos. There's probably another match here, but IWRG didn't report it. I'm just happy they're reporting anything.
CMLL (SUN) 07/15 Arena Coliseo Guadalajara [Mayu @ el Martiente]
3) Dr. X, Infierno, Mr. Trueno b Astro Boy, Oro II, Plata
4) Marco Corelone, Máscara Sagrada, Rayman b Cien Caras Jr., Eclipse, Olimpico
5) Dr. Wagner Jr. b Terrible [UWA HEAVY]
Lots of pictures at the link.
Olimpico replaced Lizmark Jr. I have not seen a result with Lizmark Jr. in it since the June 29th main event against Blue Panther. Maybe he'll show up for his scheduled match today in GDL, or maybe he's vanished for three weeks and I've just now noticed.
Speaking of, no Black Warrior at TripleMania makes his disappearance all the more strange.
CMLL (MON) 07/16 Arena Puebla [hugo999 and others @ box y lucha]
1) Blue Center, Forajido, the Tiger b Centella de Oro, Espiritu Maligno, Siki Ozama Jr.
2) Coco Blanco, Coco Rojo, Coco Verde DQ Fuerza Chicana, Skandalo, Toro Bill Jr.
3) Mascara Purpura, Maximo, Valiente b ? (japanesse), Goto, Okumura
4) Alex Koslov, Sagrado, Volador Jr. b Averno, Sangre Azteca, Toscano
5) Atlantis, Olimpico, Ultimo Guerrero b Blue Panther, Mistico, Negro Casas
Evil Monkey distracted the ref in the main, and UG fouled Panther for the pain. Not sure about that semimain result. Ohara was supposed to be in the tercera, but was replaced by a Japanesse man the regulars couldn't identify. (I'd presume one of the IWRG crew.) Skandalo yanked Coco Verde's mask.
AAA (TUE) 07/17 Gimnasio Revolucion Culiacan [Noro Este]
1) Extreme Tiger & Laredo Kid vs Espiritu & Scoria
2) X-Pac vs Super Porky, Scorpio Jr. [bull terrier, $10000]
3) Pimpinela Escarlata vs Polvo de Estrellas, May Flowers, Cassandro, Jessy, La Rebelde [hair, mask, cage]
I just like the idea of someone winning $10000 in a match. The cage match is not too hard to figure out.
AAA (THU) 07/19 Arena Tigre Padilla [Zocalo.com.mx]
1) Aguila Plateada vs Demonio Negro
2) Black Boy & King Warrior vs Carvenicola & Konan Gay
3) Capricornio, Coyote, Garlin Boy vs Euforia (Monterrey), Negro Villa, Simbolo
4) Barba Roja, Hijo del Pirata Morgan, Pirata Morgan, Pirata Morgan Jr. vs Baby Rap, Golden Boy, Rey Demonio, Sky
As best I can now figure, this is how everything has gone
Kaleth -> Barba Roja
Nemesis IWRG -> Drake Morgan -> BACK to Nemesis IWRG
? -> Hijo de Pirata Morgan
and no one's a clown. That's some other people. Anyway, I think I have to go correct some Monterrey results now.
Magazine Covers
– Super Luchas #221 has the new tag team champions
– Box Y Lucha #2827 managed to hold it's cover till after TripleMania, which is a pretty nice trick. You've got Kenzo shaved and Calo unmasked.
ESTO has a preview of the minis hair match.
Today's eSdSLP preview.