I'm not going to write much more about the Chris Benoit story at this point, but it is pretty much all I'm thinking about.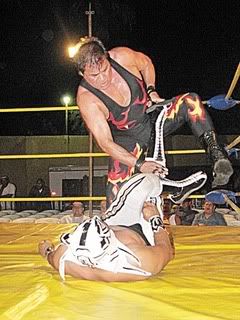 Zocalo.com.mx
CMLL PYCV (SUN) 06/24 Poliforum Zamna de Merida [YucaRod]
1) Corazon Rockero, Espartano I, Jhony Reyna DQ Cachorro JR., Chupacabras, Proverbio
2) Panther Boy L Butire Lee, Rey Persa, Dr. Siniestro [hair]
3) Caballero Galactico, Mascara Purpura, Máscara Sagrada b Dr. X, Nitro, Sangre Azteca
4) Alex Koslov, Negro Casas, Volador Jr. DQ Guerrero Blanco, Mephisto, Texano Jr.
5) Místico b Averno [NWA MIDDLE]
AAA (SUN) 06/24 Arena Coliseo Monterrey [RFC]
1) Aguila Extreme & Panterita del Ring II b Invasor & Mercurio
2) Barba Roja & Karis b Orus & Ramses
3) Estrellita & Josseline b May Flowers & Polvo de Esterllas
4) Antifaz del Norte & Hator b Pimpinela Escarlata & the Mummy
5) Charly Manson & Gronda II DQ Monsther & Pirata Morgan
Pirata Jr., Drake, and Barba Roja ran in the main event to help Pirata and get DQed, after the tecnicos dominated most of the match.
CMLL (MON) 06/25 Arena Puebla [hugo999]
1) Mr. Rafaga & Siki Osama Jr. b King Jaguar & Legionario
2) Batman, SWAT, the Tiger DQ Black Terry, Fuerza Chicana, Kraken
3) Felino, Mascara Purpura, Mictlan b Goto, Ohara, Okumura
4) Averno, Mephisto, Sangre Azteca b La Mascara, La Sombra, Sagrado
5) Atlantis, Lizmark Jr., Olimpico b Negro Casas, Shocker, Volador Jr.
Black Terry fouled the Tiger in the segunda, causing his team to lose in two falls. Batman may have been hurt in that match.
A couple of CMLL card changes for later in the week. Shocker is out of Gran Alternativa. Valiente will instead team with Dos Caras Jr. Dos will all wrestle on Sunday, as the added match will be a trios rematch from last week – Ultimo, Toscano, Universo vs Rey, Marco, and Dos. CMLL.com says it's "sin limites", but I don't believe it has super libre rules.
In today's Ovaciones, Blue Demon Jr. says his mask match with Espectro Jr. will take some time in August, and he's hoping to come back to CMLL after that.
CMLL (MON) 06/25 Monclova [Zocalo.com.mx]
1) Pierroth & Satanico b Neutron & Tigre Blanco
indy (TUE) 06/26 Arena Coliseo Monterrey
1) Black Thunder & Pequeno Cometa vs Crazy Star & Mascara Negra
2) Ave Azul & Chuy Escobedo Jr. vs Mortifero & Mr. Cuervo
3) Angel Negro & Corazon Adicto vs Ben Hur & Maldito
4) Chakos & Sika vs Ejecutor & Mr. Secuestro
5) Konan Gay, Konan King, Super Konan vs Golden Boy & Pancho Tequila
CMLL (SAT) 06/30 Arena Solidaridad
1) Pequeno Olimpico & Ultimo Dragoncito vs Pequeno Damian 666 & Pequeno Halloween
2) Loco Max & Virus vs Stuka Jr. & Valiente
3) Damain 666 & Hector Garza vs Alex Koslov & Silver King
4) Dr. Wagner Jr. vs Rey Bucanero, Ephesto, Shocker, Mr. Aguila, Ultimo Guerrero, Volador Jr., Maximo, Atlantis, Mephisto [gran prix]
5) Mistico vs Averno
The Tijuana comission will be holding a exam for new wrestlers trying to get their lucha license on Wednesday. They're expecting about 20 people to tryout, and the test will go three hours.
In Veracruz, a promoter bought the rights to hold AAA's Guerra de Titanes on June 15. You may have noticed there was no Guerra de Titanes on June 15th. The local promoter dealt with a middle company, not AAA. The local promoter is claiming the middle company lied to them and took their money, and the middle company says they didn't sign anything. No quotes from AAA at all here.
El Sol de Tampico writes about the 07/04 Auditorio Municipal Tampico show with Wagner vs Atlantis vs Park